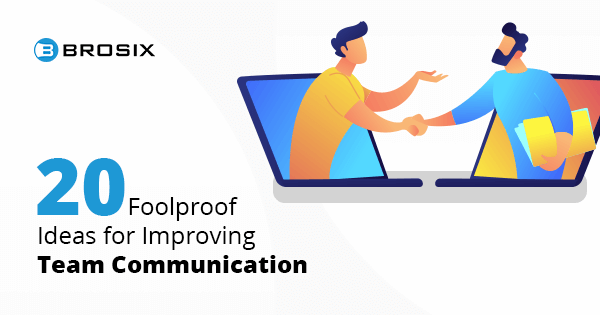 20 Foolproof Ideas for Improving Team Communication at Work
Good communication is the engine that drives high-performance teams. But without some routine maintenance, things can misfire.
Information isn't shared efficiently (if it's even shared at all). Ideas don't get heard. Processes aren't followed. Productivity begins to break down.
20 Foolproof Ideas for Improving Team Communication at Work
Click To Tweet
With two-thirds of managers uncomfortable communicating with their employees, the need to improve communication at work is clear.
Improve Team Communication Starting Today
Every team needs a tune-up from time to time. Whether your team's been stuck in neutral for a while or it's just struggling during COVID-19, there's no shortage of ways to improve communication. Best of all, these actionable tips are achievable starting today.
1. Pay Ample Attention to Onboarding
Improving team communication at work starts from the very beginning.
Research shows that employees are more likely to remain with a company for 3 years or more if they experienced great onboarding.
Onboarding processes vary depending on company size and makeup and team functionality. That said, a few methods remain time-tested.
Introduce your new hire, but not just via email. For in-house teams, organize a meet and greet. If you're remote, set up a video chat or conference call. Either way, make it personal!
Train newcomers on the company intranet. If you expect newcomers to know rules and policies, as well as share knowledge and documents, familiarize them with the platform.
Give new employees time to learn the ropes and encourage questions. You may be surprised at a new hire's willingness to offer questions simply by encouraging them to ask.
[TIP: Don't forget to communicate your remote work policy with your new hires. Don't have one? Use this template to craft the ideal remote work policy for your team.]
2. Establish Common Goals and Communicate Them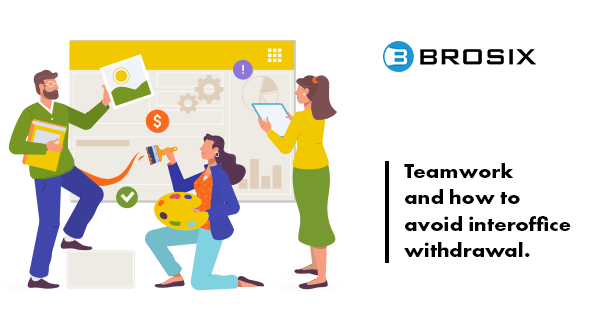 Every business has goals. But does your team know them? Communicate business goals and objectives with the team as soon as they're established. Then make sure they're clearly visible.
Don't stop there, though. Set team goals, too. Sitting down together and laying out shared objectives and challenges keeps everyone on the same page, improving your team's ability to work together and communicate constructively.
3. Talk Face to Face
There's nothing like the authenticity of a good ole' face-to-face powwow. Getting together in-person without the pressure of deadlines is a great way to help everyone relax. It makes it easier to discuss tasks, shared challenges, or even just weekend plans.
Set aside time for face-to-face communication, like a team lunch or a Friday morning coffee. Providing time for casual conversation improves your employees' social skills, mental health, and well-being. It'll also pay dividends for their ability to communicate work-related issues.
If your company's entirely remote, get the team together once or twice per year. Companies like Zapier organize yearly meet-ups to spend quality time together and share ideas.
In the meantime, establish a virtual break room.
"Just as you would in a physical office setting, set up a space to connect and communicate with your team members outside of the formality of work-related meetings. This helps to build team member relationships, and reminds us to take a quick break to recharge and catch up with our coworkers."
– Molly Gutterud, Vice President, University Communications and Advancement, Northcentral University
[TIP: Just because you're a virtual team doesn't mean you can't meet. These video calling apps and use cases improve your virtual meetings, bringing them to life. Conduct the daily stand-up via video or meet for a remote coffee, for instance.]
4. Know When Not to Communicate
Good communication with your team means knowing when not to communicate.
To yield real results, let your team recharge over an extra coffee break, a longer lunch, or even a personal day. After work, power down devices and don't send instant messages or emails unless it's urgent.
A balanced work-life routine isn't just a trendy idea. In many cases, communication can wait.
5. Take Advantage of Psychology
Don't discount the power of psychology on team communication. Knowing your employees' personality types and traits sheds insight into individual and team temperament.
Taking a personality test as a team is a great idea for improving communication at work!
Some of the top assessments include:
Myers-Briggs
DiSC
Belbin Team Roles
Keirsey Test
The 5-minute Personality Test
Taking a personality assessment as a team allows you to tailor teams and projects, shape the workplace dynamic, or just understand your employees and how they interact.
6. Encourage Two-way Communication
Top-down communication allows you to control your message. But that approach won't benefit you or your team in the long run.
Make communication a two-way street. Channels like instant messaging can help. Of the many benefits of instant messaging, it facilitates constant, real-time communication, improving the quality of news or knowledge sharing, feedback, or even just chit chat.
Another idea could be to set up no-agenda meetings.
"One interesting solution is to have a weekly call with your team that has no agenda. Just let people show up and chat. They may talk about office politics, their family, or interesting new ideas, gadgets, and techniques. Let the creativity flow. These sessions can be fun, engaging, and an opportunity to get to know teammates."
–Jono Bacon, Community, Collaboration Consultant, and Author of People Powered
7. Don't Overlook Security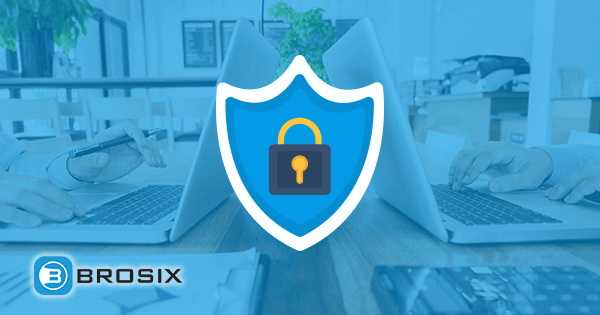 You can't focus on communication if you're busy cleaning up after information leaks or data breaches. And with many data breaches taking place due to human error, a lax approach to internal communication can put you in a Catch-22.
Your strategy requires more than just a good anti-virus software (though that's still part of it!).
Safeguard your communications from all sides. Encrypted communications over a fully private team network utilizing peer to peer communication channels protect your communications from employee carelessness or malfeasance, as well as nefarious outside threats.
[TIP: Not all encrypted chat apps are created equally. To enhance internal team chat, collaboration, and security, choose an app with robust platform security protocols and administrative control options.]
8. Stop Relying on Email
Improving team communication means using the right communication channels.
Unfortunately, email often can't solve most routine, work-related processes.
Real-time communication
Inquiries or issues which require quick action
Advancing engagement and collaboration,
Communications that require voice, video, or other tools.
In many cases, instant messaging is faster, favored, and more reliable for keeping in touch. No one's advocating you quit email altogether. But there's a reason your emails aren't getting read.
9. Use a Team Communication Tool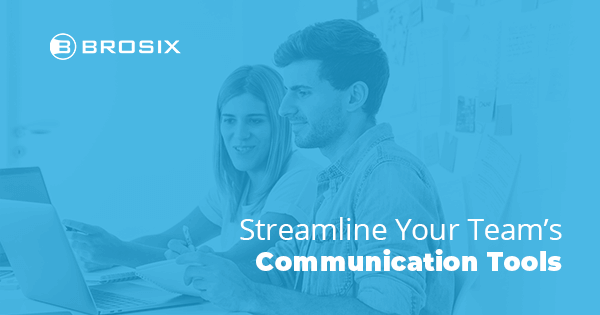 Of all the ideas here, using a team communication tool is a tried-and-true way to enhance communication at work. Are we saying that because we make Brosix? Of course! But hear us out. After all, we've been improving how teams communicate since 2006.

If you were to add up your time spent during the day looking for info – scanning emails, WhatsApp groups, and chats spread across social media platforms, how much time would you waste? Don't know? Don't want to know? Allow us…

30 percent of employees waste 30 minutes at work each day. 10 percent waste 3 hours or more.

You see, each platform and channel for communication serves a specific purpose. Mix and match at random across multiple channels and you're aiming for a rabbit hole of wasted time, potential security risks, and eventual death by WhatsApp. But there is a better way.

That's where team communication tools like Brosix come in. You get the communication channels your team needs – direct messaging, broadcast messaging, group chat rooms, and voice and video calling – all on a unified private team network featuring rigid user authorization protocols and rich administration tools.

And it's all highly searchable and trackable thanks to chat histories and user activity logs.

Use a team communication tool and stop subjecting your team to disorganization, inefficiencies, or worse. Better yet, try Brosix. It's built to improve how teams communicate.
10. Consolidate Your Collaboration Software
Collaboration software is supposed to improve how teams work together. And with so many new softwares and tools, it's tempting to try them all. More tools equals more teamwork, right?
Not exactly! When each tool specializes in one thing, bouncing back and forth between 5 different ones cripples team communication.
Believe it or not, you can get most jobs done with screen-sharing and remote desktop control, instant screenshots, file transfers, and whiteboards for creativity. The good news is that many instant messaging solutions for business include these tools.
You'll also want a good project management tool. Tools like Basecamp, Trello, and Monday help you manage projects more efficiently. You can break down project components, allocate resources, track workflows, delegate and coordinate tasks and progress, and more.
Beyond that, you may choose a productivity app to manage mundane tasks like social media posting, time tracking, and to-do lists. Buffer, TimeDoctor, and Todoist are all good options.
Tool overload is a thing. Take stock of what you really need to improve team collaboration but don't go overboard.
11. Try Remote Work
Busy offices and long commutes drain employees and, as a result, team communication. Working remotely can lead to better communication by helping your team strike the right balance.

One way could be to use half of the week to hold meetings or presentations which require in-house collaboration. Then use the other half of the week to focus on individual tasks or projects which are more efficiently executed while working from home.

[TIP: If you're new working from home, you need to consider everything from how you keep in touch with your team to your work routines and environment. Use these work from home tips to upgrade your workspaces, habits, and team communication.]
12. Keep Track of Timezones
Tracking time zones isn't just necessary when sending out calendar invites. Scheduling a noon meeting European time won't do your meeting any favors if the North American team is joining. If you're serious about improving how your team communicates, pick a time when everyone's at least had their first cup of coffee.
13. Use Your Administrative Toolkit
Administrative tools are an often-overlooked method for improving communication. Most team communication solutions include advanced control options, but it's up to you to use them.
Brosix, for example, provides a rich set of administrative features to help you create a custom communication experience on your network. Control over contacts, shared chat spaces, and the features to which users have access allows you to target communication systemically, focusing productivity and enhancing collaboration.
14. Socialize
Maybe you've heard the saying – A team that plays together stays together. People are inherently social and this nature should be utilized even in an office setting.
To improve morale, make use of team-building activities outside the office. Suggest an escape room, ax throwing, or go-karting – something fun where the emphasis is not on work. Such activities can foster mutual respect, trust, and camaraderie – all vital for healthy communication.
[TIP: Remote teams can have fun too. A host of remote team building activities can boost team relationships. Hold a quiz session, share a meal, or watch a movie virtually, for example.]
15. Keep the Door Open
To improve communication within your team, address questions, issues, and ideas as they arise.
One approach is an open-door policy. By eliminating barriers to communication, an open-door policy promotes approachability, free-flowing communication, more efficient dissemination of information, and healthier working relationships.
For in-house teams, keep the door open literally and welcome in-person discussions and feedback. For distributed and remote teams, do so virtually. Set up a chat room for continuous group discussion.
16. Utilize Mobile Communication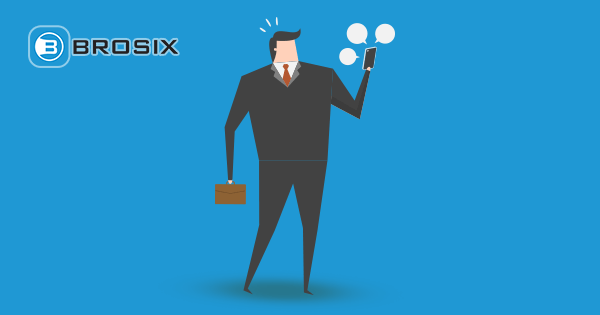 Nearly everyone has a smartphone at their disposal. Meet your team on their level, whether it's in the office, on the public transport, or from the couch.
Most of the top team chat apps feature versatile mobile apps that provide a safe and secure chat space while enabling efficient and effective teamwork.
17. Track Your Communication
In addition to making conversations searchable, tracking your team communication has huge benefits for productivity.
Consider this – what if you knew not only which team members communicate with each other, but how they prefer to communicate and when. In a data-driven world, this information is power.
By utilizing user activity logs to track communication, as well as preferred features, who's using them and when, you can pinpoint productivity and maximize teamwork.
18. Take a Tech Timeout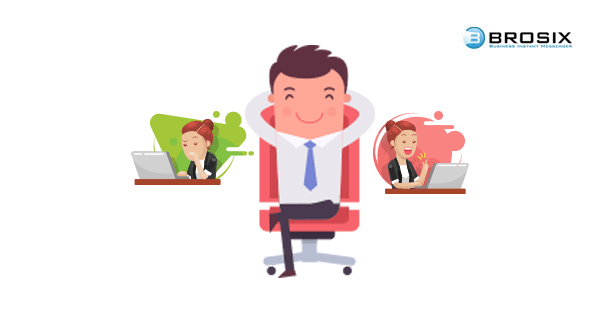 Research indicates that too much screen time impairs us physically, mentally, and emotionally.
Schedule tech timeouts. Take them. And most importantly, disconnect. Taking tech breaks enhances health and well-being, boosts productivity, and helps you forge deeper connections.
Here are a few ideas to break up your screen time.
Take a walk.
Read a book.
Listen to music.
Practice some brief yoga or stretching.
Do sudoku or some other brain exercise.
Run an errand in between tasks.
Grab a coffee with a coworker or friend
Improving your ability to communicate with others ultimately begins by focusing on you.
19. Allow Anonymous Feedback
You can't improve something if you don't know it's broken. Sadly, though, many employees hold back from sharing their thoughts or opinions because they're afraid.
One idea for better communication is to establish a suggestion box, physically or virtually. Or designate a person of confidence to collect team feedback. But keep it anonymous. Anonymity allows your team to openly share their thoughts and ideas free from the uncertainty of negative consequences.
20. Recognize Your Team
Don't just check in with your team (although that's also important). Recognize them regularly.
It's a good idea to hold in-person or virtual meetings every few weeks or months. Use the time to discuss projects or issues, invite feedback, or just listen to complaints. Organize virtual coffee sessions or virtual toasts to celebrate events, shared successes, or employee milestones.
"One sure-fire way to improve communication at work is to celebrate company and staff accomplishments. Share items like people joining your team, earning promotions, and getting kudos from clients or team members. Share on whatever internal communication platform your team uses or external like your social media channels if your team is comfortable with it."
-Colton De Vos, Marketing and Communications Specialist, Resolute Technology Solutions
Meeting your team regularly and recognizing their thoughts, opinions, and accomplishments shows that you truly value them.
What Ideas Can You Implement?
While team communication issues are inherently unique, a few methods for rectifying them remain time-tested.
Forge real connections by meeting your team regularly, recognizing them and their accomplishments, sharing goals and challenges, and even socializing
Encourage questions, feedback, and knowledge-sharing
Take meaningful breaks
Craft your toolkit to suit your team, but don't go overboard
Don't overlook the role of sound security protocols and administrative control
20 Foolproof Ideas for Improving Team Communication at Work
Click To Tweet
What ideas can you implement? Not sure where to start? Consider Brosix. With the right mix of communication, collaboration, productivity, and security features, it's built to improve team communication. Give it a try!