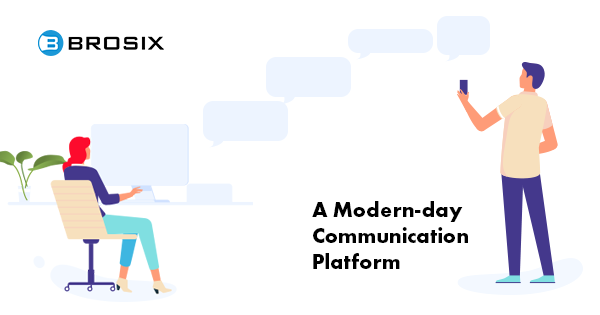 20 Must-Use Communication Platforms for Practically Any Business
The demand for communication platforms is high. Already a billion-dollar industry, the communication software sector is expected to grow at 15% between now and 2026.
Corresponding with this huge growth, businesses today have tons of options to boost communication. This can make it difficult to figure out the right platform to choose.
To help you navigate, we put together this guide including the different types of communication software, helpful criteria to choose the right platform, how to make the most of the platform, and of course, 20 of the best communication platforms for practically any business.
What is a Communication Platform?
Communication platforms enable businesses to employ real-time communication capabilities, such as instant messaging, voice and video calling, file transfers, and screen sharing, to facilitate collaboration. A must in today's workplace, these platforms enhance interactions between employees and with customers, and internal processes like information flows and teamwork.
Communication Platforms as a Service (CPaaS) are a pay-as-you-go service that you can either download or access from the web. There are also self-hosted platforms, which you manage on your servers and own outright, without a third-party application.
While the platform you choose depends on your business needs, cloud-based CPaaS enables the on-demand availability of your data anywhere there's an internet connection. Cloud-based is increasingly popular as businesses look for greater flexibility, compatibility, and ease of use.
Types of Communication Software
Communication platforms enable different types of collaboration. These are some of the most common kinds of software you'll find deployed in workplaces all over.
Instant Messaging Apps
Instant messaging is a preferred form of communication for consumers and companies. Business instant messaging apps like Brosix provide the familiar user experience of direct text messaging, group chats, and voice and video calling, but on closed platforms designed for the work environment to pave the way for secure, real-time employee communication.
Collaboration Tools
Collaboration tools facilitate a variety of collaborative processes and workflows, including project management, intranet and knowledge sharing, document management and storage, task and time tracking, and more
Video Conferencing
Video conferencing software provides organizations a platform to conduct virtual meetings, conferences, and webinars. Communication takes place in virtual rooms where employees can see each other in real time and share, annotate, and record screens.
Customer Relationship Management
Customer relationship management (CRM) software organizes into a central hub relevant customer data including contact information, transaction histories, and interactions with the business. CRMs help sales and call center reps streamline communication with customers and quickly respond to their needs.
Tech Support
Tech support software gives help desk employees a platform for internal and external IT support, such as remote desktop access or live chat communication with customers.
The Best Communication Platforms and Software
These 20 communication platforms can perform in practically any business setting across every industry.
Brosix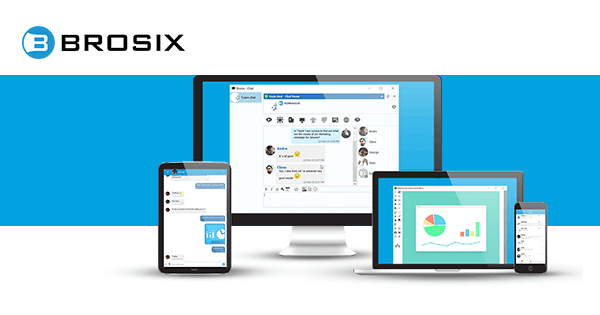 Brosix is an all-in-one instant messaging software for businesses that combines communication, collaboration, and control.
Rich real-time messaging features including text and group chat, broadcast messages, and voice and video calling pair with Brosix's suite of collaboration tools. Share your screen and grant desktop access, capture instant screenshots, and transfer unlimited files.
Use the robust administrative features to manage platform access, who can communicate with whom, and user access to features. A live chat plugin for your website enables communication with customers.
For secure collaboration, each Brosix Network is encrypted end-to-end. Brosix is fully functional across devices and operating systems to streamline how day-to-day business gets done.
Dropbox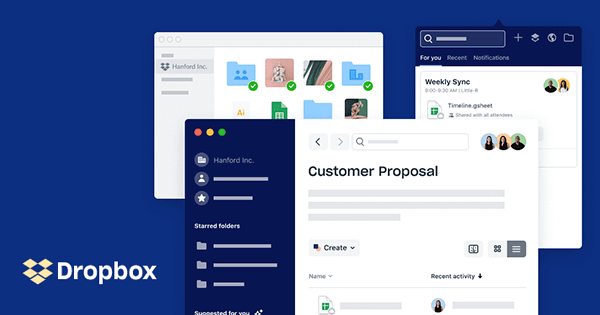 Dropbox is a cloud-based content management solution. Drag and drop features facilitate quick storage and sharing and help employees easily collaborate on files. The ability to leave comments, provide feedback, and assign roles streamlines company document management and communication across the Dropbox platform.
Google Drive
Another cloud storage solution, Google Drive allows users to share folders and files and collaborate on documents in real time. Drive syncs across devices, making it a versatile platform for collaboration on docs, sheets, slides, and more. And with more than 1 billion users and 15GB free storage, you're sure to find your mates there.
Flickr
Flickr is a web-based image and video hosting service. For organizations that employ a lot of multimedia content, Flickr provides a central hub with link sharing and download options for easy collaboration between designers, marketers, and communications specialists, for example.
Asana
Asana is a web and mobile application for streamlining workflows and project management. Organize tasks and projects in calendar format to plan your time and tasks, or use timeline format to gauge remaining work. Manage dependencies to avoid bottlenecks and prevent employees from waiting idly for their task.
Slack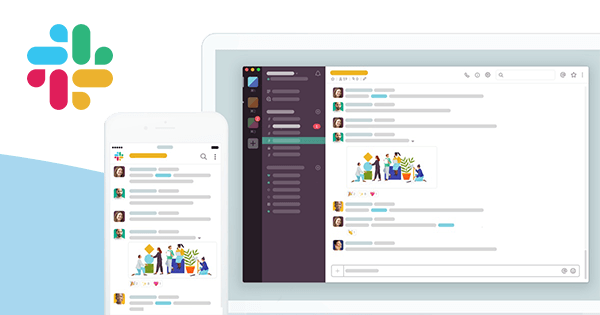 Slack is a business communication platform featuring real-time chat, powerful search, and integrations with other leading apps and software. For more relevant conversations, Slack organizes communication into channels where you can chat in groups, make audio and video calls, and share your screen.
If Slack isn't the app for you, check out these other popular Slack alternatives.
Youtube
Youtube isn't just for binge-watching videos. It's a must for showcasing your products, demonstrating your expertise, communicating your multimedia content, and connecting personally with customers.
Microsoft 365
Microsoft 365 offers a suite of productivity tools on a unified platform. A host of enterprise plans provide household names like Word, Excel, and PowerPoint, as well as business-class email, cloud-based file sharing and storage, and a SharePoint intranet to manage internal news and knowledge.
Freshdesk
Freshdesk is a customer service and help desk software. It streamlines support by unifying support-related communications and facilitating robust ticket and productivity management. Track everything from support tickets to customer engagement and overall agent performance.
Proofhub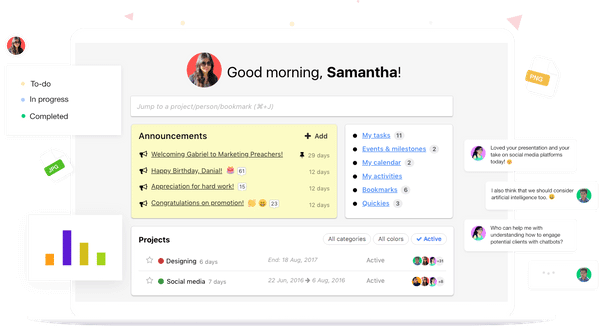 Proofhub is a user-friendly project planning software that keeps everyone on the same page. Coordinate work schedules, assign tasks, track project statuses, and carry on conversations. Proofhub replaces the need to use multiple collaboration apps.
Hubspot
Hubspot is an easy-to-use CRM platform that helps businesses engage leads and convert them into customers. Hubspot's sales, service, marketing, and content management solutions facilitate everything from help desk support to analytics and reporting, email marketing, and social media management, so you can accelerate growth exactly where it's needed.
Whereby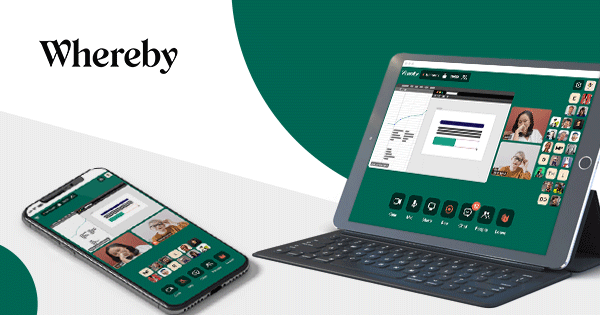 Whereby allows you to conduct video calls and conferences without ever leaving your browser.
There's no need to download software or provide logins for your calls. Just create a room, grab the link, and share it with the other participants, who can join from any device.
GoToMeeting
GoToMeeting has everything companies need to hold collaborative meetings with teams, clients, customers, or other businesses. The online meeting service lets businesses launch meetings for up to 3,000 participants from anywhere including mobile devices, record meetings, share desktop screens, change presenters, and mark up sessions with drawing and annotation tools.
Basecamp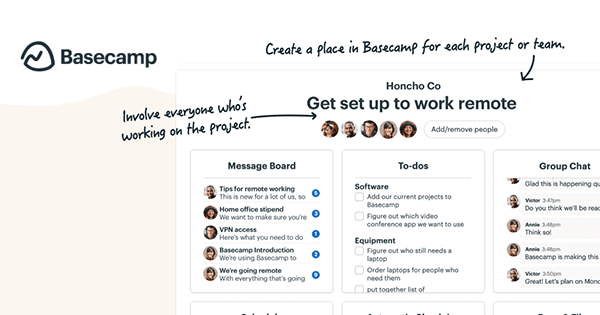 Basecamp is another popular project management solution. In addition to rich task management features such as To-do lists, Basecamp includes a chat feature so employees can communicate on tasks and share files, code snippets, and audio and video files.
We recently compared Basecamp in depth to 4 other popular platforms. Check it out!
Zoom
Zoom has exploded in popularity. During the Coronavirus crisis, the video calling and conferencing app has kept individuals in communication with loved ones and enabled students to continue remote learning. Businesses too can use Zoom to conduct meetings, split rooms into breakout sessions, chat on the side, share and annotate screens, schedule calls, and record calls locally or in the cloud.
Confluence
Confluence is an intranet software from Atlassian that centralizes your company's internal documentation and product requirements. The corporate wiki organizes content by Pages that employees can edit and comment on, or Spaces that contain pages for individuals, teams, and strategic projects. Templates, user-level permissions, and personalized feeds help you build a custom knowledge base.
InVision
The design process is a collaborative one. InVision ensures good communication flows by keeping stakeholders in the picture. Pass mockups and finished designs back and forth for review and approval, create actionable to-do lists, and leave real-time feedback.
Jira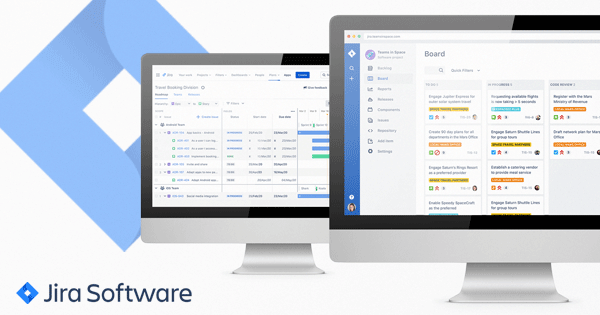 Another Atlassian platform, Jira is an issue tracking and project management product. An agile ticketing system helps you coordinate bug fixes, track progress, and note feature requests from customers while the Kanban board provides full visibility. Jira integrates with Confluence to bridge communication in your organization and make customer service a team effort.
Troop Messenger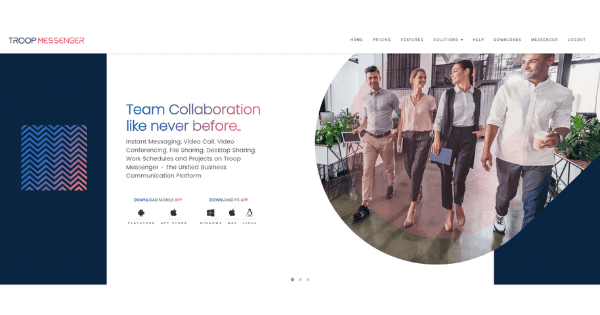 Troop is a workplace chat app featuring instant messaging, screen sharing and file sharing, and audio and voice calling capabilities. The cost-effective platform runs in the cloud, while also offering the option to self-host for businesses in search of an enterprise collaboration solution.
TeamViewer
TeamViewer is a remote access and desktop-sharing suite. The software application allows for cross-platform remote control, as well as other collaborative processes such as web conferencing and file sharing. Integrated service case management and integrations for service desk systems make TeamViewer a viable platform for support and training.
Helpful Criteria to Consider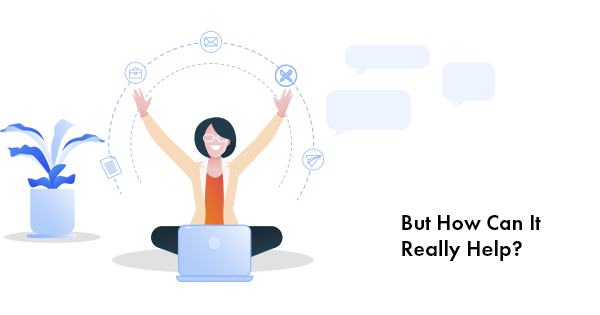 Platforms vary in functionality, so you'll need to examine use cases as they apply to your business. That said, the following criteria are pretty well accepted across the board.
Features – To enhance communication, you'll want features like real-time instant messaging, message broadcasting capabilities, and voice and video calling. Screen sharing with remote desktop and instant screenshots are necessary for walking through complex processes and highlighting examples. Lastly, consider the control options available. The ability to manage contacts, user access to features, and group chat spaces is especially important for ensuring effective communication.
User-friendly – A communication platform should enhance collaboration and productivity for each employee using the software. For maximum usability, the learning curve should be low with adequate support tutorials and additional resources to familiarize users with features and functionality.
Cross-device and OS functionality – A communication platform is useless if users can't use it on their preferred devices, so make sure it's optimized to function across operating systems, browsers, and mobile and desktop versions.
Security and Privacy – Not every software as a service takes the same approach to security. To protect your business, look for comprehensive standards such as end-to-end encryption, peer-to-peer communication channels, and anti-virus integration. Opt for Private Networks with strict user authorization protocols and robust control options including the ability to set individual data security levels.
Cost – Do a cost comparison of features and their use cases for your organization. If you're paying extra for collaboration tools and integrations, make sure employees are using them. Otherwise you could be throwing money down the drain.
How to Make the Most of Your Communication Platform
Investing in a communication platform is a start, but how you use it will determine its impact on your business. Consider these tips.
Don't go overboard with software. It may be necessary to employ more than one tool, but using too many complicates workflows and makes communication messy. Instead, choose all-in-one platforms with a wide range of functionality.
Integrate with programs you already use, such as third-party applications and anti-virus software.
Don't neglect administrative control features. Using them to tailor workspaces to specific employee and business needs can skyrocket productivity.
Consider platforms that help you communicate externally with customers through features like live chat, video conferencing, and remote access.
If you're having a hard time settling on a platform, take Brosix for a spin. A powerful instant messaging software for businesses, Brosix combines communication, collaboration, and control on a unified platform to streamline how day-to-day business gets done. Request a demo today.