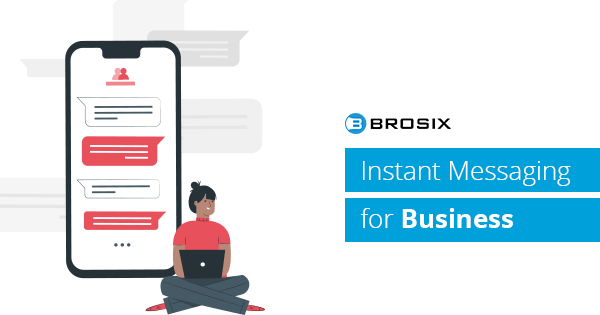 Best Instant Messaging Apps for Business (Free and Paid Tools)
With accounts totaling seven billion in 2019, there's little doubt that your customers are using instant messaging apps. The same goes for your team.
Best Instant Messaging Apps for Business (Free and Paid Tools)
Click To Tweet
The only question is whether you're maximizing instant messaging, also known as IM, to meet your business needs. That is, connecting with your customers on their preferred channel, while also providing your team a platform for efficient internal communication and collaboration.
What is an Instant Messaging App?

Instant messaging is a real-time online communication method that connects two or more people. Stand-alone instant messaging applications, or apps, facilitate session-based exchanges of text, audio, and video communication, as well as files and content.
Best Instant Messaging Apps for Business (Free and Paid Tools)
Click To Tweet
Today, businesses of all kinds use these programs to share information and collaborate in efficient and dynamic ways. There are two types of instant messaging apps.
Personal-grade platforms provide the individual consumer a free or cheap alternative to costly phone and data plans. Thanks to rapid texting capabilities, voice and video calling, and the sharing of stickers, GIFs, and media, these apps afford billions of users quick but enjoyable personal chatting capabilities.
Instant messaging apps for business utilize the same technology that's made personal IM apps so popular and, in most cases, you get the same core feature stack. But rich administration features, enhanced security protocols, and productivity tools allow you to effectively administer the network and meet the demands of the corporate environment.
IM Apps for External Business Communication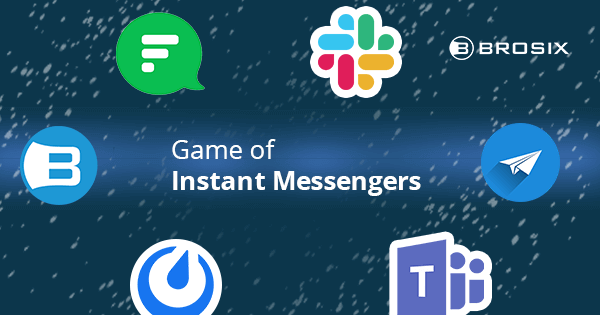 Of all your business requirements, a customer-centric approach should top the list. As instant messaging plays an increasingly key role in customer support, free IM apps help your company:
Easily connect with customers and clients on their preferred channels
Effectively generate leads
Provide a timely and convenient live chat solution
WhatsApp
Available on: Android, iOS, Windows, macOS, Web
WhatsApp is the most-used instant messaging app around. With more than 1.5 billion users, there's a good chance your customers are using its texting, group chats, file sharing, and voice and video calls. There's a group chat feature allowing only admins to send instant messages.
WhatsApp also features a limited business tool to connect small enterprises with their customers. WhatsApp for Business offers you a business profile, a greeting message, quick reply, and away reply.
Send out promotional messages
Set automated messages
Boost customer support as a live chat solution.
Access metrics like how many instant messages you send and how many you read
Facebook Messenger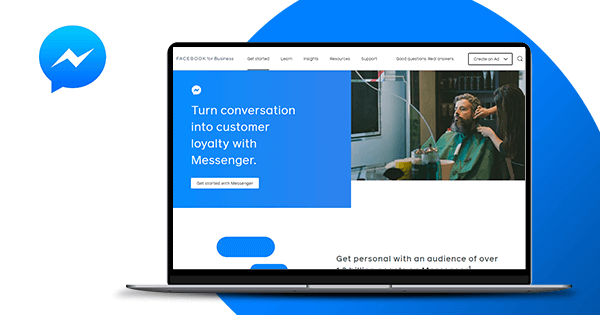 Available on: Android, iOS, Windows, Web
As an IM app to boost your business's external communication capabilities, Messenger is right on WhatsApp's heels. It's available in almost every country but China.
Besides, your business probably already has a Facebook page. But even if your customers aren't on Facebook, they're probably on Messenger.
If that weren't enough, Messenger allows your business to leverage the power of instant messaging in a host of ways.
Generate leads via Messenger campaigns
Boost customer service with the live chat plugin
Produce scannable codes to bring new users directly into Messenger conversations with your business
Messenger ad campaigns are priced individually through Facebook ad auctions.
WeChat
Available on: Android, iOS
If you've got customers in China, WeChat is a no-brainer. With more than a billion users, the app for messaging, social media, and e-payments is where your customers will be most accessible.
In addition to full messaging capabilities, you also get payment services, news, maps, and more. Like Messenger, you can use WeChat to launch various marketing and ad campaigns. WeChat is unique in that it also doubles as an IM app for business. WeChat Work is the dedicated internal communication and office automation face of the platform, used by industry throughout China.
Just keep in mind that using WeChat comes with inherent risks to privacy and the security of user data and information.
Telegram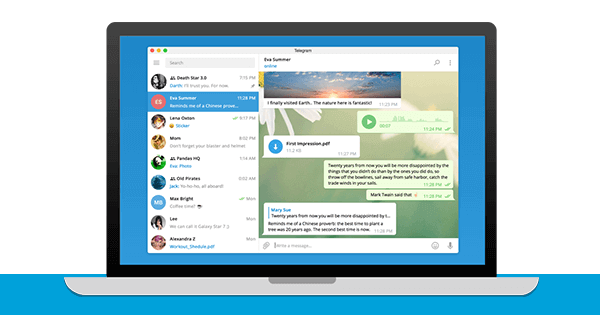 Available on: Android, iOS, Windows, macOS, Linux, Web
Telegram doesn't boast the billions-strong user base as other messenger apps on this list. That said, thanks to features like bots, secret chats, supergroups, and the ability to send files up to 1.5 GB, the messaging app is gaining popularity with businesses, especially in countries with tight restrictions on messaging apps.
Several unique features can boost your lead generation, like public channels and groups and supergroups allowing for up to 100,000 users per group.
Just know that Telegram chats aren't encrypted by default – you have to manually turn on encryption. What's more, Telegram's client-side code is open-source, but its encryption protocol is homegrown and unverified by experts. And that could give you a false sense of security.
Skype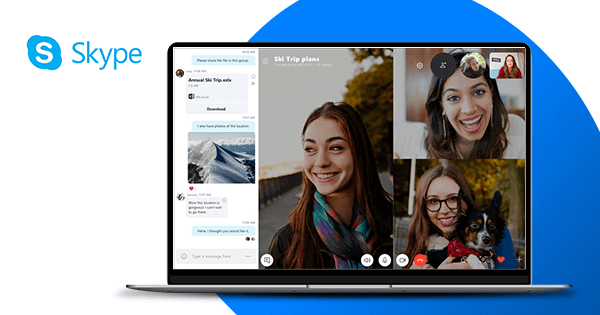 Available on: Android, iOS, Windows, macOS, Linux, Kindle Fire, Xbox One
One of the original apps for instant messaging, Skype began life in 2003 as a peer-to-peer platform for IM and calling capabilities. Skype still offers individuals and small teams reliable instant messaging, voice and video calling, and screen sharing. It's also great for calling landlines at majorly reduced rates.
If you're after Skype messaging, but on a dedicated business network, Skype has you covered – for now. Skype for Business takes place on a separate network and you can invite regular Skype users to join. You get everything in the consumer-grade version, plus a whiteboard, video conferencing, personalized meeting URLs, and the ability to record meetings.
Unfortunately, Skype for Business's direct competition with parent company Microsoft's Teams software means Microsoft will soon pull the plug, killing off the platform in 2021.
While Skype lives on, check out these Skype for Business alternatives, or explore below the top instant messaging apps for business.
Skype pricing: No cost for individuals; $2 per user/month for Business; Available in the Office 365 Suite
A good instant messaging app is a powerful tool for your business. Generate leads, access metrics, handle inquiries in real time, and meet customers via their preferred channel of communication.
That said, when it comes to your internal team communication, free instant messaging apps pose a number of risks. They can't safeguard your privacy. Nor do they offer productivity tools.
Best Business Instant Messaging Apps – Team Communication
Besides providing a more secure platform for real-time, internal team communication, business instant messaging applications offer dynamic collaboration features and robust administrative toolkits. Many apps offer freemium plans or free-trial periods so you can find the best solution.
These are the best instant messaging apps to boost your team communication and collaboration!
Brosix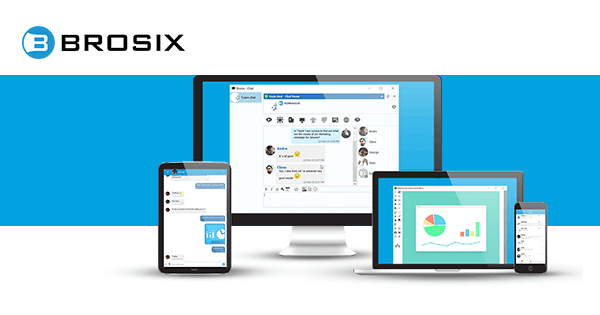 Available on: Windows, macOS, iOS, Android, Linux, Web
Since 2006, Brosix has provided an all-in-one business instant messaging app for enterprises of all types and sizes. Of course we're a bit biased. But it's our blog! Let us boast a bit!
With Brosix you get more than internal team chat. You get a versatile business solution
featuring dynamic productivity tools, robust security, and comprehensive administrative control.
Voice and video capabilities, screen sharing, and a native whiteboard solution streamline communication and collaboration. Broadcast messages let you target your message to a handpicked audience.
Unlike other instant messengers for business, Brosix's unlimited size file transfer never restricts file transfers, neither by size nor volume. Businesses looking to boost customer support can easily deploy the engaging live chat solution.
Fully Encrypted, Private Team Messaging
A Brosix team network ensures secure business communication. Platform users must be authorized on an individual basis by a network administrator. All channels utilize fully encrypted, peer-to-peer connections that you can bolster with anti-virus and malware integration.
Custom Productivity and Platform Management
Brosix's administrative features enable granular platform management. Delegate features and tools on a user or team basis, tailor shared chat spaces and contact lists, authorize multiple team admins, establish individual data security levels, and more.
Brosix pricing:Free team network, chat history, and admin control for 3 users; $4 per user/month for Business; $6 per user/month for Enterprise
Discord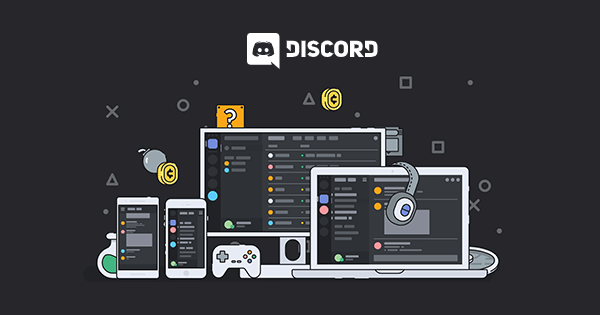 Available on: Windows, macOS, iOS, Android, Linux, Web
Like a walkie talkie, Discord delivers real-time push-to-talk communication. It's a unique twist on instant messaging for business. Conceived to bring gamers a more interactive experience, Discord's rich voice capabilities – paired with chat and screen sharing – have gained it traction in the business community.
There are some differences, though. While many business messengers organize conversations into workspaces or chat rooms, Discord arranges them by 'Servers,' with all your Servers accessible on one interface.
Moreover, Discord's voice option is fully separate from text-based messaging. Voice chat continues in the background, which you can mute through the push-to-talk feature. Clicking on a voice channel immediately starts communication with users.
As a tool for gamers, you get some integrations like YouTube, Twitter, Reddit, and a few others geared toward the gaming community. That also means you'll get a wide range of users on the platform. And that may not suit your business standards.
To see how Discord stacks up as a messaging tool for businesses, check out our in-depth look!
Discord Pricing: Discord's freemium version offers core functionality; Nitro Plans for $9.99/month
Mattermost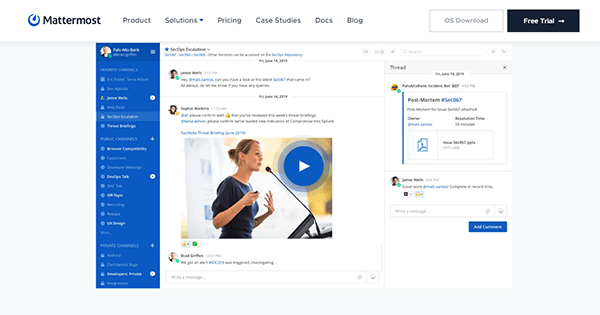 Available on: Windows, macOS, iOS, Android Linux, Web
Businesses in search of an open-source instant messaging app needn't look further than Mattermost. What's open-source, you ask? That gives you the power to fumble around with the source code, tailoring it to better suit your company's needs.
With Mattermost you get a host of customization options at your fingertips like custom branding and login page design, the ability to customize languages in the UI, and even the ability to add encryption on both communication and server level.
Messaging happens via direct one-on-one chat, or in groups through public and private channels. There's also voice, video, and screen sharing.
Mattermost is a self-hosted program so you'll need to deploy it on your server. A host of open-source integrations are available, as well as connections with third-party apps like Jira, for example.
Mattermost pricing:$3.25 per user/month will suit most small teams and startups; A scalable option geared toward large businesses costs $8.50 per user/month
Microsoft Teams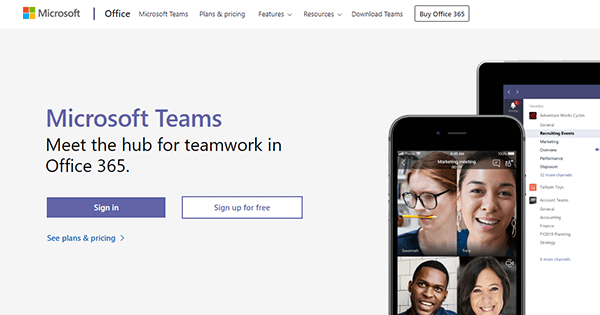 Available on: Windows, macOS, iOS, Android, Web
With thirteen million daily users, Microsoft Teams recently overtook Slack as the king of business instant messengers.
Immediately, Teams features a few key selling points. One is its in-messaging word-like formatting. You can change font styles, create bulleted lists within each IM. Then there's Teams' deep integration with Office 365. Collaboration within the entire Microsoft Office toolkit without leaving the app makes it great for the corporate environment.
Two different bots – T-bot and Who-bot – start you on the platform, and enable you to search the company intranet and extract relevant information. Teams also features nearly 200 other integrations. Internal communication on Teams happens in group chat rooms with threaded conversations or via private chatting.
There are a few drawbacks. For small businesses on a budget, Teams doesn't come cheap. Teams is also notoriously complex and time-consuming to set up so keep your patience handy.
Teams pricing:$5 per user/month for Business Essentials; $12.50 per user/month for Premium
Fleep
Available on: Windows, macOS, iOS, Android, Web, Linux
Fleep is a great tool for inter-business communication. With Fleep, you can chat with other Fleep users and teams outside your organization.
Fleep delivers the core messaging capabilities you'd expect of an instant messaging app. There's also unlimited messaging history, native task management, and the ability to send emails through the app.
While Fleep does offer 20 or so integrations like Trello, Jira, and Google Drive, you won't get collaboration tools. Moreover, you won't get native voice and video calling. That takes place through Whereby, which has its own limitations.
Fleep Pricing: Fleep Basic is free for up to 3 group conversations; $6 user/month for full control over team communication and conversations
Chanty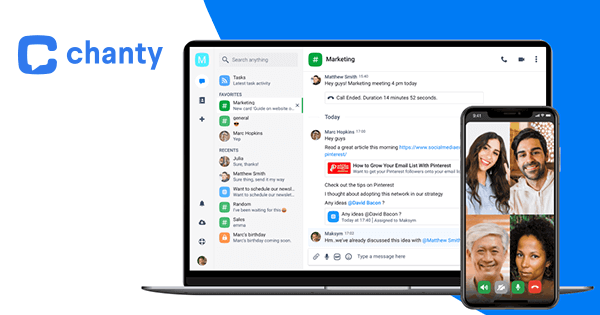 Available on: Windows, macOS, iOS, Android, Web
You may not have heard of Chanty, but this relative newcomer deserves to be on your radar. Joining the ever-crowded field of messenger software in 2018, Chanty affords small to mid-sized companies an AI-based business IM tool at a reasonable price.
Chanty merges all aspects of team communication – one-on-one and group chat, voice and video calls, and task management. You also get a handful of useful integrations like Google Drive, Trello, Dropbox, and Github.
Users in search of order will love Chanty for its Teambook feature. Teambook keeps messages, links, contacts, and tasks organized by folder in one location. For team collaboration, Chanty offers file sharing, screen sharing, and an unlimited searchable messaging history.
Chanty pricing:Free plans limited to 10 users per team; $3 per user/month for Business
Troop Messenger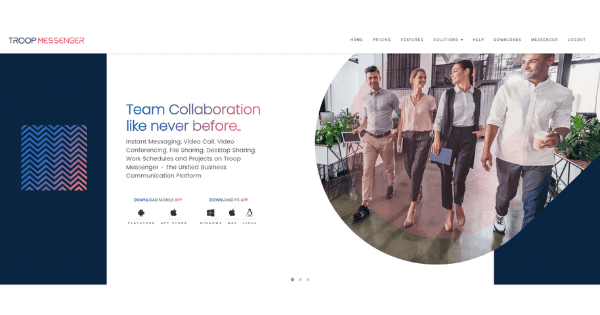 Available on: iOS, Android, Windows, macOS, Linux
Troop is another business messaging app which you may be unfamiliar with. Attractive pricing options, however, mean that it likely won't fly under the radar for long.
For just a buck per user per month, you get messaging, voice and video, file sharing, screenshots, usage analytics, and fingerprint security. The Enterprise plan tacks on screen sharing, some privacy chat features, and the ability to edit sent messages.
Troop offers 50GB free storage with the option to upgrade to 1TB. There's even a self-hosting option, making Troop not only an affordable business instant messaging solution, but a versatile one.
As a newbie, Troop isn't a complete package yet. Message scheduling, tagging, integrations with Google Drive and Dropbox, and some advanced admin controls are just a few of the upcoming features on their way.
Troop pricing: $1 per user/month for Premium; $5 per user/month for Enterprise
Flock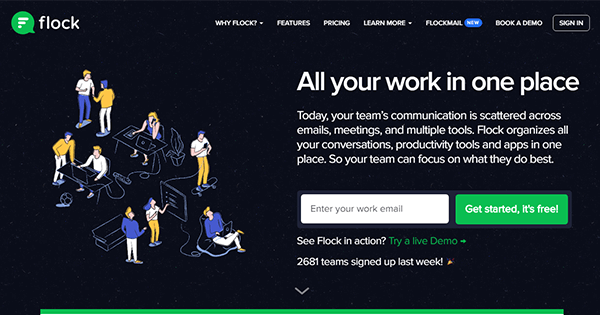 Available on: Windows, macOS, iOS, Android, Linux, Web
Flock is hugely popular in its native India. But it isn't stopping there – Flock recently set its sights on Slack, Google, and Microsoft.
Flock offers the core chat features you'd expect from a business messenger software – chat channels, direct messages, group messages, threaded replies, and alerts and notifications.
A lot of IM tools require integrations for things like task management, to-dos, channel-based mailing, and polls. With Flock, that's all built-in. If you're after integrations specifically, Flock offers 60 or so, with Google Drive, Trello, Dropbox, and Twitter, to name a few
The free plan gets teams 10GB of shared storage, while Pro and Enterprise plans offer users 10 and 20 GB, respectively. You will face a strict file upload limit, though – just 100 MB.
Flock pricing: Freebie plan limited to 10K messages; $4.50 per user/month for Pro; Enterprise Plan on request
Ryver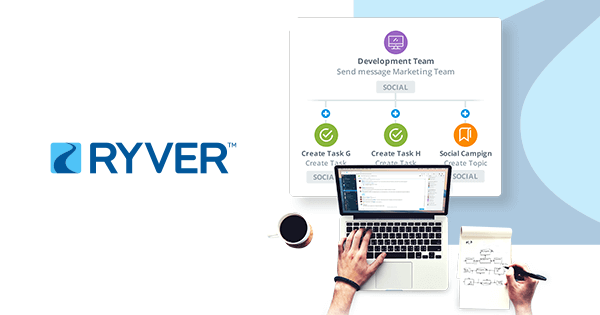 Available on: Windows, macOS, iOS, Android, Web
Ryver's built-in Kanban board and task tracking keep everyone at work on the same page. Coupled with chat and voice and video communication, the messaging platform for business is worthy of your consideration.
Messaging takes place directly, in private groups, or open forums. Select messages and add subjects and formatted, long-form content. All of it can then be turned into tasks and managed on a Kanban board.
Set Reminders to follow up on conversations. A dedicated Notifications page ensures you'll never miss an IM. Ryver integrates with household names like Dropbox and Google Drive. There's also screen sharing. and unlimited integrations through Zapier.
Bear in mind, if your team relies on Zapier integrations, Ryver could be a huge hit to your bottom line. At $250 for 50K tasks – Zapier plans aren't cheap. What's more, customization options are few and there's no free plan.
Ryver Pricing:$49/month for up to 12 users; $99/month for unlimited users; Enterprise plans starting at $199/month
Slack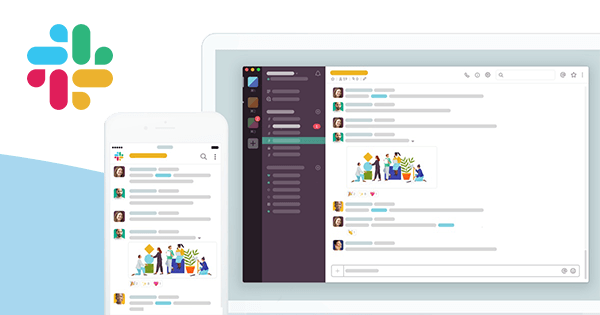 Available on: Windows, macOS, iOS, Android, Linux, Web
Despite falling behind Microsoft Teams, Slack is often lauded as the leading tool for business instant messaging and collaboration. That's because Slack offers more integrations (1500+) than anyone and still has one of the biggest user bases around.
With Slack, public and private channels, thread-based chat, and direct messages make it easy for organizations to streamline communications and have more relevant conversations.
Screen sharing and voice and video are built-in, plus some nifty features like automated reminders and keyword alerts. That latter notifies you anytime a word of your choosing is mentioned. For the security-minded, Slack provides two-factor authentication, data encryption, enterprise key management, and more.
Despite all this, Slack's price point puts it out of reach for many startups and small teams. What's more, its powerful integrations mean that many of its capabilities are the result of other tools and technologies, and they could expose your business network to vulnerabilities.
Luckily, there's no shortage of other suitable IM programs. If Slack isn't the tool for you, explore these 12 alternatives!
Slack pricing:Freemium version limited to 10K messages, 10 integrations, and 5GB shared storage; $6.67 per user/month Standard Plan; $12.50 per user/month Plus Plan
Benefits of Instant Messaging for Business
Instant messaging for business offers more than just quick team messaging. Once you settle on the right app or messaging software, you can expect to realize some major benefits both in the office and company-wide.
Features – Today's instant messengers offer much more than just chat. In many cases, you get voice and video capabilities, file and screen sharing, collaboration tools, and more.
Record Keeping and Compliance – Many business IM tools enable you to log user activity. This way you can track productivity and ensure regulatory compliance.
Control – Instant messengers for business afford you the control to tailor the platform to meet team and company needs. Authorize user access individually. Manage contacts, features, and communication spaces to ensure a productive and professional environment for teamwork.
Security – End-to-end encryption, peer-to-peer channels, anti-virus and malware integration, especially when taken in tandem with tighter control options, make business instant messaging software a highly secure option for your enterprise communications.
Camaraderie – Instant messaging programs provide a consistent space for sharing team victories, marking notable business occasions, and even carrying out team-building activities.
Choose the Right Messaging App for Your Business
Instant messengers are in demand. The rapid growth of messaging apps as a preferred communication channel for billions, not to mention the enhanced security and productivity of business instant messengers, make IM technology a must for any company.
Best Instant Messaging Apps for Business (Free and Paid Tools)
Click To Tweet
But it's not as simple as choosing any messaging platform or program.
Use personal-grade IM apps as a way to connect with your customers, like handling quick product inquiries, for example. Be careful with apps that don't offer end-to-end encryption as the default. Don't use free instant messengers for internal team communication.
Go with a business instant messenger for your internal team communication and collaboration. Powerful security protocols, administrative control features, and productivity tools safeguard data and information while improving communication and teamwork.
Best Instant Messaging Apps for Business (Free and Paid Tools)
Click To Tweet
When choosing the right messaging app for your business, examine your internal and external communication needs. That'll help you determine whether an IM app could suit your business, or whether an instant messenger for business, like Brosix, is more appropriate.
Better yet, why not employ both?