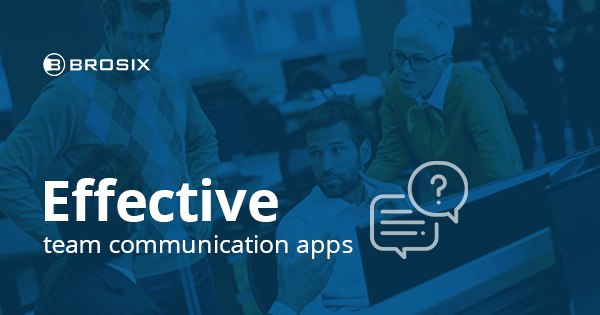 The Top Team Chat Apps to Drive Your Business
Don't let the name deceive you. Team chat apps aren't just about team chat.
It's true, internal communication is one of the most critical factors in determining the success of your business. But it's not the only factor. As the traditional office shifts toward distributed teams, digital nomads, and freelance consultants, meaningful collaboration and efficient business processes are becoming more complex.
The Top Team Chat Apps to Drive Your Business
Click To Tweet
That's why the right business chat software should more than just improve internal communication. It should boost teamwork, safeguard company data and information, and ensure productivity. In short, the right team chat app should drive your business.
Team Chat Apps vs. Free Personal Messengers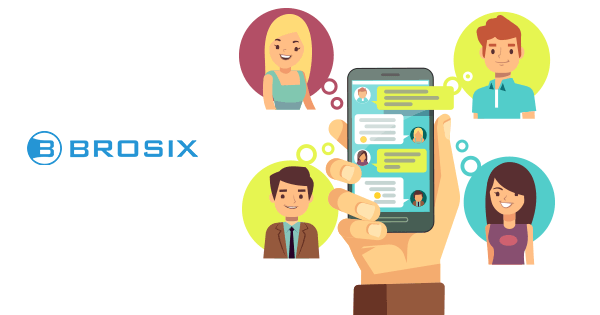 Instant messaging is ever-present in the corporate world, powering real-time communication and collaboration in the office. But apps for team chat aren't the same as personal-grade free applications.
Sure, both platforms utilize the same core instant messaging technology. Both facilitate the exchange of quick, real-time text, audio, and video communication via proprietary software.
Team chat apps, however, are stocked with business-specific features, tools, and tech to centralize company communication and collaborative processes. Dedicated internal workspaces, administrative control options, productivity features and integrations, and enterprise-grade security enable you to create a custom chat and collaboration hub, streamline workflows, and keep business-related communication confined to your business.
Comprehensive network administration
Team chat apps provide rich administration features so you can tailor the network to match your business needs. Manage on a user basis contact lists, shared chat spaces, and access to features. Or set multiple administrators and specific data security levels to further customize the network and user experience.
Business-minded collaboration
Working from home or other satellite locations often leaves remote workers feeling neglected or left out. Office chat software helps you engage employees through features like virtual whiteboards, screen sharing with remote desktop control, instant screenshots, and file transfers. What's more, pairing these features with real-time text, audio, and video chat makes for an interactive collaboration experience that standard messengers can't replicate.
Attention to privacy and data security
While no tech is fully immune to those who wish to exploit it, team chat software takes greater strides than personal messengers to secure business communication.
Brosix's holistic approach to security and privacy, as an example, secures communication internally and externally. A Brosix Team Network gives you full control over the platform, ensuring only authorized users join the network. End-to-end encryption and data compression, peer-to-peer communication channels, and anti-virus and malware integration further ensure all communication and collaboration on the network is private and secure from outside threats.
The Best Apps and Software for Team Chat in 2020
Team chat software should fuel meaningful communication and teamwork. Here you'll find 11 of  the most capable apps to take your business to the next level.
Brosix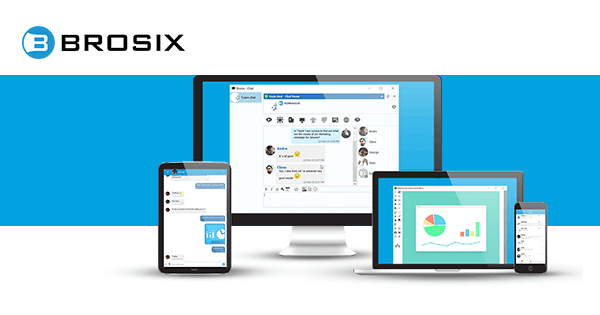 Available on: iOS, Android, Windows, macOS, Linux, Web
Brosix is a powerful instant messaging software for businesses featuring all-in-one chat, collaboration, and control to improve team communication and performance.
Brosix's chat features facilitate effortless communication. One-on-one text chats, chat rooms, broadcast messages, and audio and video calling ensure seamless real-time communication in any situation.
Brosix's user-friendly interface enables dynamic teamwork with just a click. Share your screen or desktop access, send instant screenshots, launch a whiteboard presentation, and transfer files unlimited in size or number.
Better yet, everything takes place on a fully encrypted private team network providing full control over the platform. It's a highly secure chat software that's customizable to your business.
Top Brosix features:
Administrative control over contact lists, shared chat spaces, and features
The ability to set multiple administrators and specific user data security levels
Fully trackable User Activity Logs
Searchable and syncable chat histories
End-to-end encrypted, peer-to-peer communication channels
Voice and video calling
Broadcast messages to share important news to all or targeted audiences
Screen sharing with remote desktop control
Unlimited size file transfers
Virtual Whiteboardconferences
Pricing: $4 per user/month for Business; $6 per user/month Premium. Startup gets you communication and modest enterprise control for free
Flock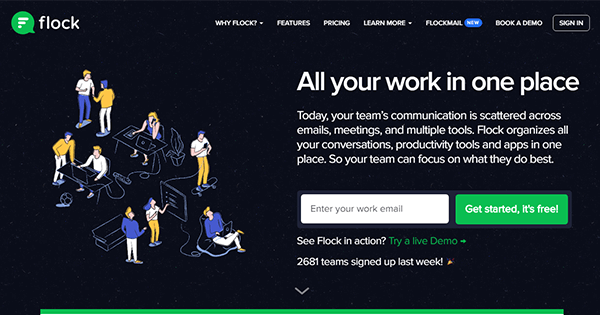 Available on: Windows, macOS, Linux, iOS, Android, Web
Based in India, Flock has positioned itself as a rival to Slack. Flock has even set up a North American headquarters to challenge the team chat giant.
Flock gives you the core capabilities you'd expect of a team chat app – direct and group chat, voice and video calls, alerts, and notifications. Chat channels featuring threaded replies can be set up to be both private and public.
Keep in mind, Flock's freemium version caps storage, public channels, and searchable chat histories to 10K messages. If Flock isn't for you, check out these alternatives.
Top Flock features:
Integrate with 60+ apps like Google Drive, Trello, and Dropbox
Built-in task management and the ability to convert discussions to tasks
Create polls, shared to-dos and auto-generated mailing lists
Invite guests onto the platform
Flock Pricing: Paid plans start at $4.50 per seat and get you screen sharing, unlimited message history, and 10GB storage per user
Troop Messenger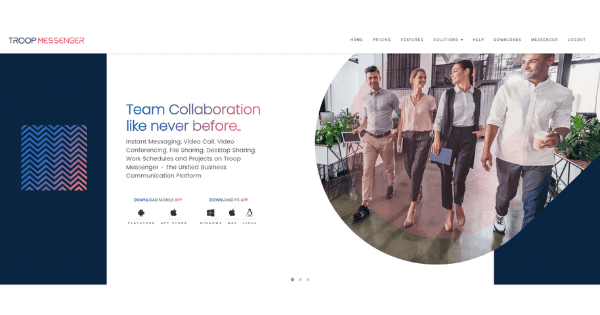 Available on: iOS, Android, Windows, macOS, Linux
Troop believes company chat and collaboration shouldn't break the bank.
For just a buck a month, the office chat app gets your business one-to-one and group chat, file sharing, and voice and video calling. Those willing to pay a bit more can get message-flagging capabilities, burnout chats, data usage analytics, and the option to self-host.
Collaboration is basically limited to screen sharing, though.
Top Troop features:
Flag important conversations and retrieve them through a flag filter
Self-destructing burnout chats
Unlimited message history
The ability to invite outsiders to the platform
Troop Pricing: Paid plans start at $1 per user/month. Enterprise and self-hosting plans start at $5 per user/month
Discord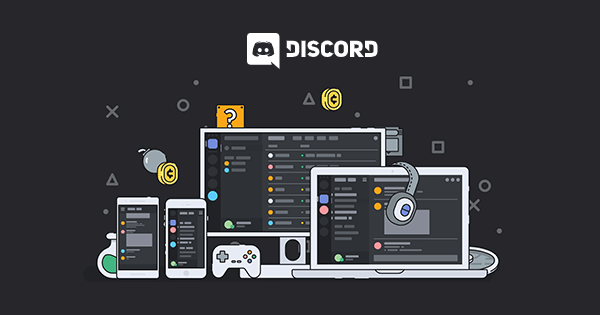 Available on: Windows, macOS, iOS, Android, Linux, and Web
Imagine a walkie-talkie, gaming platform, and business chat app all rolled into one. That's Discord. It's a totally different take on interoffice communication.
With Discord, voice communication is front and center. In fact, voice chat is always on in the background. Clicking a channel immediately initiates discussion with other users, which you can mute through the push-to-talk feature.
Text-based conversations happen on a separate channel or 'server.' You also get screen sharing and file sharing.
Keep in mind that Discord is first and foremost a platform for gamers. That's raised questions around the platform's security and fitness as a team chat solution.
For a deeper dive into Discord, have a look at our recent review!
Top Discord features:
Assign roles and permissions to any member of a channel
Push-to-talk capabilities
Multiple workspaces on a single interface
Integration with YouTube, Twitter, Reddit, and more
Discord Pricing: Discord's freemium version offers core functionality; Nitro Plans from $9.99/month
Slack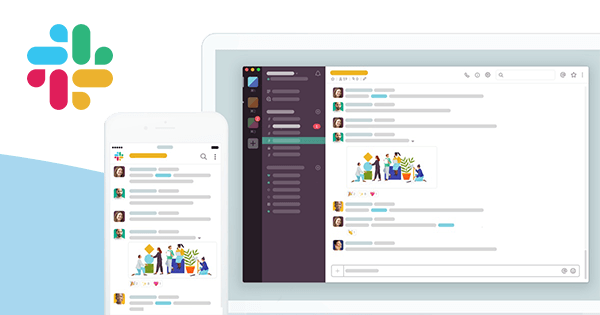 Available on: iOS, Android, macOS, Windows, Linux, Web
In the world of business communication, Slack is the app you're probably most familiar with.
The collaborative chat software organizes conversations by direct messages and threaded public and private channels. You can share, pin, edit, delete, and even react to messages. Slack also features bots to remind you of messages, tasks, and more.
If there's a single defining aspect of Slack, it's integrations. Slack boasts more than 1,500 integrations to help you maximize workflows and mundane office processes.
That also means that many Slack capabilities are a result of other apps and technologies. Not only are there security risks to consider, but questions over Slack's handling of user data.
If Slack isn't the team chat app for you, explore these other worthy Slack alternatives!
Top Slack features:
More than 1,500 integrations
Keyword notifications
Customizable themes and sidebar
RSS feed capabilities
Slack Pricing: A freemium plan limits you to a 10K message history and 10 integrations; Standard plans from $6.67 per user/month; Plus from $12.50 per user/month
Microsoft Teams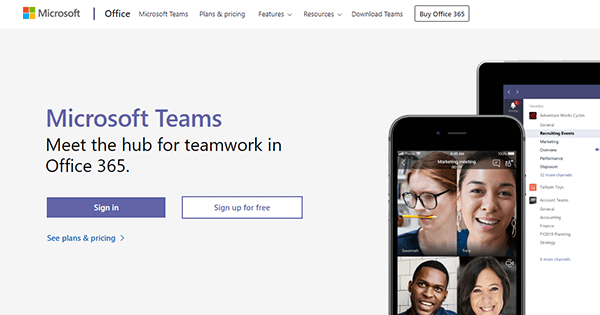 Available on: Windows, macOS, iOS, Android, Web
If you hold a Microsoft Business Basic or Business Standard plan, Microsoft Teams probably isn't all that new to you – the business chat software comes standard with those plans.
Teams is best known for its deep integration with Microsoft Office 365. That allows for robust cross-team collaboration atop the Office 365 suite of products. You can access, edit,  and share any Office or One Drive document without ever leaving the Teams app. Messages are threaded and there's even rich text editing which allows you to compose long-form email-like messages complete with an importance indicator.
Teams is geared toward the corporate environment and large enterprises. But you'll need a Microsoft account just to access the software, putting it squarely out of reach for many small companies and startups. It's also notoriously difficult to deploy, so have your patience handy.
Top Teams features:
Word-like formatting lets you change font styles, create lists, and more in each message
Office 365 integration lets you collaborate on any Office or One Drive document without leaving Teams
AI-powered onboarding and search functionalities
Teams Pricing:Essentials from $5 per user/month; Premium from $12.50 per user/month. A limited freemium version aims to push you toward a Microsoft subscription
Workplace
Available on: Windows, macOS, iOS, Android, Web
With more than 2 billion Facebook users and its own free chat app, it was always a matter of time until the social media giant took to office communication.
With Workplace, communication feels strangely familiar. That's because you get a news feed, personal pages, posts, comments, and likes. The interactive setup suits businesses of all kinds and sizes.
Chat happens in direct messages, private or public chats, and Groups – for unified communication and collaboration. You also get voice and video calls, IT monitoring tools, admin controls, and some limited integrations.
If there's a drawback, it's Facebook's lengthy history of dishonest practices with user data and information – something we mentioned when we compared Workplace versus Slack.
Top Workplace features:
Facebook-familiar communication and collaboration
Live-streaming capabilities
The ability to invite outsiders to the platform
Workplace pricing: Workplace Advanced from $4 per user/month; Enterprise from $8 per user/month
Chanty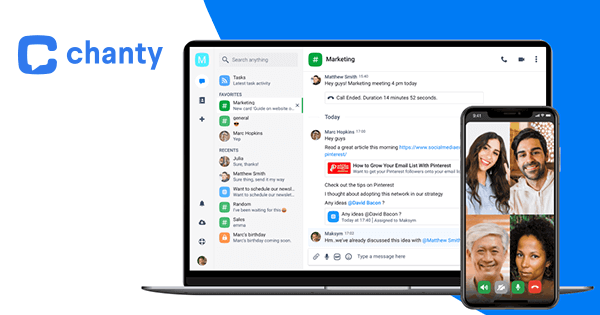 Available on: iOS, Android, Windows, macOS, and Web
Hitting the market in 2018, Chanty is a newcomer to the field of corporate communication. Geared toward small and medium-sized enterprises, the AI-powered office chat software has quickly moved up the ranks.
Chanty delivers core communication through one-to-one messages, threaded public and private channels, and voice and video calling. You also get file sharing, screen sharing, an unlimited searchable message history, and a hub to neatly organize tasks and conversations.
Top Chanty features:
AI-powered search and suggestions
Teambook organizes tasks, messages, links, and files
Message and task tracking
Automated workflows through integrations with Trello and Mailchimp
Chanty Pricing: Paid plans from $3 per user/month; free plans are limited to 10 users on a team
Ryver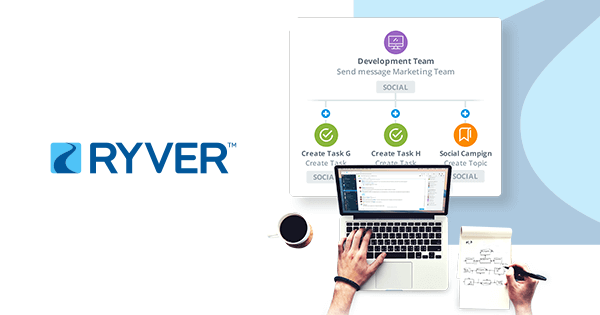 Available on: Windows, macOS, iOS, Android, and Web
If you were to combine team chat with task management you'd have Ryver.
On Ryver, communication takes place in direct messages, private groups, and open forums. All of it can then be turned into tasks and managed on a Kanban board. There's also screen sharing, voice and video calls, and Ryver's big selling point – unlimited integrations through Zapier.
Keep in mind, if your team relies heavily on integrations through Zapier, you'll need to ante up. At $250 for 50K tasks – Zapier plans don't come cheap.
Top Ryver features:
Set Reminders remind you to follow up on messages
Select messages and add subjects and formatted, long-form content
Chat, task management and automated workflows on one platform
Social media, news, and RSS-feed streaming
Ryver Pricing: 14-day free trial; Plans from $49 per month for up to twelve users; $99 per month for unlimited users, and $199 for enterprises
Twist
Available on: Android, iOS, Windows
It's hard to sync interoffice communication when you're spread across time zones. If you're just waking up while your teammates are calling it a day, you're left to play catch-up.
To help you find what you've missed and keep the discussion focused, Twist turns every chat into a thread, on a particular topic that's relevant to you. You either have to comment on an existing thread or start a new one.
You also get direct messages, customizable notifications, a handful of integrations, and browseable message histories. Twist organizes all of your threads into an inbox that you can check at your convenience, just like you peruse your email every morning.
Have in mind that Twist doesn't offer voice or video. Consider Brosix for voice and video calling. Brosix's seamless audio and video capabilities are never more than a click away, and meet a variety of use cases and business functions.
Top Twist features:
Integration with Todoist, a top app for organization
All your chats in an inbox
Message previewing
Invite guests like freelancers and consultants
Twist Pricing: From$6 per user/month for unlimited message history, file storage, and integrations. Free with unlimited users including 1-month message history and 5 integrations
Trillian
Available on: Windows, macOS, Linux, Android, and iOS
Trillian is a no-frills company chat app geared toward businesses and healthcare professionals.
A bare-bones approach means you won't get voice or video calls with Trillian. And there are no collaboration tools. What you get is easy-to-use, real-time chatting, group chats, and file and image sharing. Trillian also offers the option to either self-host or communicate behind Trillian servers.
Branding itself as a HIPAA-compliant application, Trillian targets the healthcare industry and even plans to roll out client-practitioner chatting.
Top Trillian features:
The option to self-host
Numerous in-message text formatting options.
Centralized administration and features control
SMS texting capabilities
Trillian pricing: Business Plans from $3.99 per user/month; Enterprise from $7.99 per user/month
Why Use a Team Chat App
The market for collaborative software is booming – spending in 2019 was predicted to top $45 billion, with business communication applications netting the biggest gains. But that shouldn't be a surprise. Team chat apps offer tons of benefits regardless of your team or business segment.
Improve Communication
If there's one job where your team chat software should excel, it's communication. Enterprise-oriented platforms afford your employees multiple channels to keep in touch and collaborate, improving company communication. Share discussion, files, knowledge, voice and video calls, or just a simple emoji. What's more, chatting in real time is more engaging than other methods of communication, such as email where there's often a lag between messages.
Provide Governance
Free personal chat applications lack control over the platform. Employees can mix private and work communication, leading to distractions, time-wasting, and even security risks.
Business chat apps provide enhanced management and authority. Admins can group users as they see fit, control who can chat with whom, and regulate features on a user basis, ensuring a secure and productive work environment. Users must receive authorization to join the network.
Increase Efficiency
While there are many ways to improve your efficiency at work, good office communication software can streamline your entire workflow. Centralizing company communication and collaboration eliminates unproductive multitasking, such as switching back and forth between apps and platforms. Mobile apps, meanwhile, enable teamwork whether you're working from home, the field, or somewhere in between.
Strengthen Team Camaraderie
When employees have friends at work, their job is more enjoyable. Of course, electronic communication can't replicate in-person interaction, but the consistency and ease of interoffice chat can strengthen relationships around the workplace, especially for remote teams.
Group chats can serve as a space for sharing team victories, birthday or anniversary wishes, or funny GIFs and memes. Over video chats, on the other hand, you could share a coffee break or carry out a fun remote team-building activity.
Save Money
Employing multiple software applications is costly, especially for startups and small businesses. Team chat software  can help you reduce operating costs, by consolidating on one platform multiple costly software programs and apps, phone plans, security, and more.
Ensure Record-keeping and Compliance
Business chat software simplifies the process of electronic record-keeping while ensuring compliance with business regulations. Chat histories allow team members to easily review their conversations and quickly recall details and information, saving time and frustration. User Activity Logs, meanwhile, ensure compliance with an ever-growing list of regulations that mandate electronic record keeping.
Boost Productivity
The office can be a real productivity killer. While it's essential to limit social media usage and take meaningful breaks, team chat apps also play a role in boosting productivity. Often, you can tailor the network to match team needs and business specifications, like setting multiple administrators to delegate admin duties, establishing custom chat and collaboration spaces, and managing users and access to features.
Transform Business Meetings
Business chat apps provide a range of functionalities beyond quick team messaging. For seamless meetings every time, establish a space for the distribution of relevant meeting materials and pre-meeting brainstorming. Employing whiteboard conferences or screen sharing, as well as setting up a chat room for real-time discussion during or post-meeting, drives engagement.
How to Choose A Team Chat App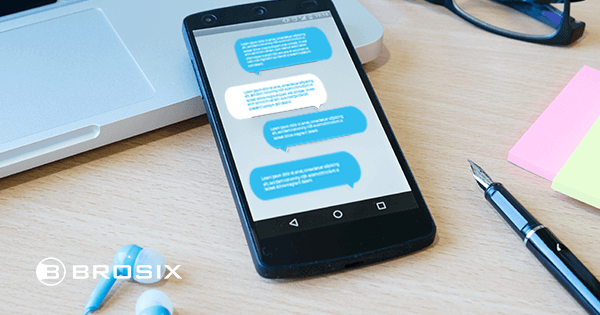 As you can see, good business communication software is vital to your company. But with so many apps on the market, each packed with benefits, choosing the right program requires some homework. You'll need to weigh several factors against company and team requirements.
Functionality– Business chat software should conform to team size, chat habits and preferences, and task load.
Security – Not all apps pay equal attention to privacy and data security.
Features– Some team chat apps don't come with audio, video, or collaboration features.
Price– Costly integration packages and add-ons for storage and searchable chat histories can quickly skyrocket the price.
Control – Lack of control of users, chat spaces, and collaborative features hinders productivity and efficiency.
The Top Team Chat Apps to Drive Your Business
Click To Tweet
The best team chat apps should come as close as possible to meeting each of the above requirements. If you still can't make up your mind, take Brosix for a spin. It's a highly capable, secure, and customizable instant messaging software designed to improve team communication and drive your business. Try it!