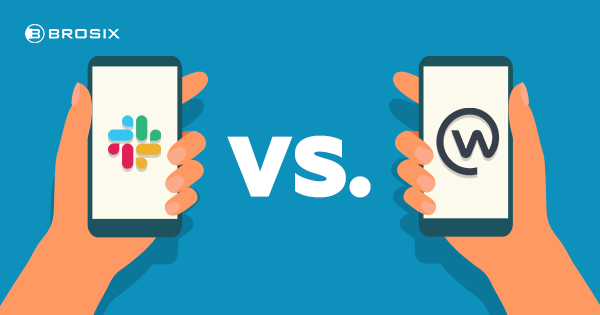 Facebook Takes Aim at Slack. Is Either Right for Your Team?
Effective communication and efficient teamwork are the keys to ensuring productivity. And there's no shortage of tips out there to help you ensure communication and teamwork flourish in your office.
One such method, employing team communication and collaboration platforms, has transformed business communication. And one such platform, Slack, has dominated this space since it came to market in 2013, boasting 10 million users and 85,000 paying customers.
Slack isn't without competition, though. One of the newer competitors, Workplace by Facebook, offers teams a communication and collaboration space with the familiarity of Facebook. That's right, Newsfeed, live video, and personal pages and posts – at work.
Workplace functions as an entity separate from Facebook. But is it right for your team? And where does it leave Slack? Below we'll give both tools a thorough examination – looking at both platforms' advantages and disadvantages.
Then we'll consider a third option – Brosix – seeing how it stacks up against the competition, what sets it apart, and whether or not it's the right choice for your team.
So without further ado, the tools!
How Facebook is Taking Aim at Slack.
Cost
Both Slack and Facebook Workplace offer freemium versions. But to take full advantage of either platform, you'll want to opt for a paid plan.
At $4 per seat per month, Workplace is the better bargain. There's an Enterprise Plan for $8 per user per month, but the cheaper Advanced Plan probably has everything you need. Plus you can try it free for 90 days.
Like Workplace, Slack also operates on a two-tier pricing plan. The Standard Plan will run you $6.67 per user per month, while the Premium Plan sets you back $12.50 per user per month.
The Unboxing
Getting started with either tool is a cinch. But right out of the box, both Facebook Workplace and Slack take slightly different approaches to getting you started.
1.Signing up – With Facebook Workplace, you'll need a business email, and one that hasn't already been claimed by another Workplace community. Once verified, Workplace will tell you if there are other uses from your domain and pair you with them. From there, just fill in your profile and voila, you're a member of the Workplace community. Slack, on the other hand, allows you to register with any email address you choose. You'll get a confirmation code and, upon confirming, create a workplace name. You can invite teammates from the get-go.
2.Onboarding – In Workplace by Facebook, onboarding takes place through text prompts, teaching you about the tool by using the tool. In Slack, onboarding happens through interactions with the Slackbot, with which you can chat and ask questions. Slack also offers Tooltips, or pieces of advice about the platform, during your Product Tour.
Usability
Right off the bat, the first thing you'll notice about Workplace is its similarity to Facebook. While your Faceboo Workplace profile is completely separate from your personal Facebook counterpart, the core UI and UX of Workplace are the same as the parent platform. And that's Workplace's biggest advantage.
Smack in the center is your News Feed. Notifications, Chat, Groups, and Events are accessed on the left panel. If you've signed into Facebook desktop at any point in the past few years, you'll navigate the interface with ease.
Slack features a split-screen with two main panels. On the left, you'll find Channels, Threads, Direct Messages, and app management. On the right, the larger of the two panels, is where chat happens. Finding your way around takes some getting used to as many features, such as voice and video, are hidden behind buttons.
Communications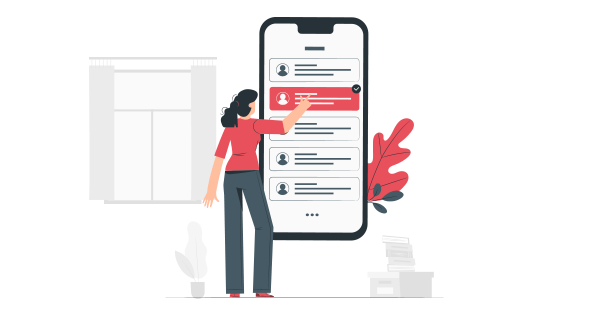 Both tools offer one-on-one and group communication. In Workplace, one-on-one communication takes place in Workplace Chat. In Slack, it's Direct Messages. You can react to and delete messages, but only Slack allows you to edit messages.
Group chats are where things get a bit convoluted. In Slack, there are both Channels and Group Conversations. Channels can be private or public so if you're looking for privacy, you'll want to consider group conversations. Group Conversations, however, are for a max of 8 participants. From there, you'll need to convert it to a private chat.
In Workplace, group communication is private by default. To create a public chat, you'll need to invite the specific participants. But there's a second option – Groups – for chat and collaboration.
Groups can be open, closed, or secret (unable to be viewed by anyone without an invite). Think of them as a meeting place for collaboration on a specific project by a specific team, department, or location.
Notifications
Both tools provide ample ways to stay informed. For example, Slack's keyword alerts keep you in the know whenever a word of your choosing is mentioned. Workplace doesn't feature keyword alerts, but you can tailor notifications for specific groups and conversations.
Too many notifications can cramp your workflow, though. And that brings us to one of Slack's Achilles heels. Slack's Do Not Disturb feature can be overridden, meaning someone else can determine that their message is more valuable than your productive time.
Task Management
Simply put, Workplace doesn't provide native task management. For that, you'll need to integrate with a third-party app. And that requires a paid plan.
In Slack, by the way, you'll also need to integrate with a third-party app for task management. However, Slack's Actions mean you can do so without leaving the app. So you can integrate with Trello, Asana, Basecamp and Jira – whatever you're using for task management – all within Slack.
Integrations
No surprises here. Slack is king of integrations. The app features more than 1,500 with more being added routinely. Workplace, on the other hand, connects with 60 or so enterprise tools.
Whether you're integrating with a doc sharing platform, organizational apps, or task management solutions, the ability to connect with another tool can boost productivity.
Let there be no doubt – the ability to integrate with more than a thousand apps makes Slack unrivaled in this category.
Integrations pose an important question, though: How exactly do they impact the security of your data?
Consider as an example Google's G Suite. Recently, it came under criticism for not using end-to-end encryption. Not only does that mean that Google has everything it needs to read your data, but others can compel the tech giant to hand over data for various purposes.
What's that have to do with Slack or Workplace, you ask? Well, if G Suite happens to be one of the integrations that you're utilizing, might your work chats be swept up in such an occurrence?
It's a slippery slope. And while there's no evidence yet of such an episode, the speculation isn't unreasonable and deserves thorough consideration.
Search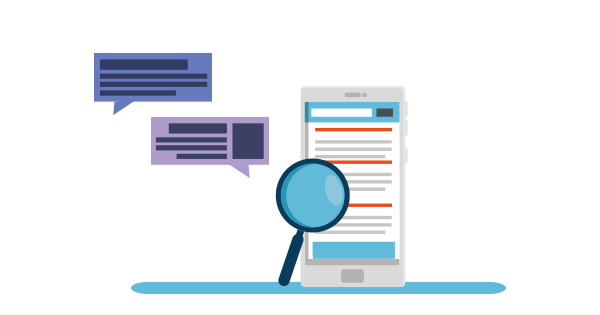 Search in Slack is pretty comprehensive. The tool allows you to search by person, channel, time, or even by snippets of text within an attached document. The biggest limitation you'll face is with the free version which limits you to 10,000 searchable messages.
Workplace, on the other hand, doesn't allow you to search all conversations at once. So let's say you remember a conversation or even just an aspect of it, but not with whom it took place, you'll need to search each possible chat.
File Sharing
One of Slack's biggest drawbacks is that file storage is limited regardless of your version of choice – 5GB per team on the freemium plan and capped at 20GB per user on paid plans.
Workplace by Facebook claims unlimited file, photo, and video storage for all plans. But there are caveats – two of them to be exact.
With Facebook Workplace, and unlike Slack, there's no single hub for your sent media. Shared files can only be found within specific conversations. What's more, the maximum file size in Workplace is 100MB and 25MB within Workplace Chat.
The Takeaway
While Slack has long dominated the realm of team chat, Workplace now offers a capable alternative. As you can see, both tools come with their share of pros and cons which you need to weigh against each other when considering either platform.
But what if you're not sold on either platform?
Tales abound of Slack's noisy and disruptive nature. There are even tips on preventing Slack burnout. Workplace, meanwhile, is the offspring of a company known for deceitful and disingenuous practices with user data and information.
Consider Brosix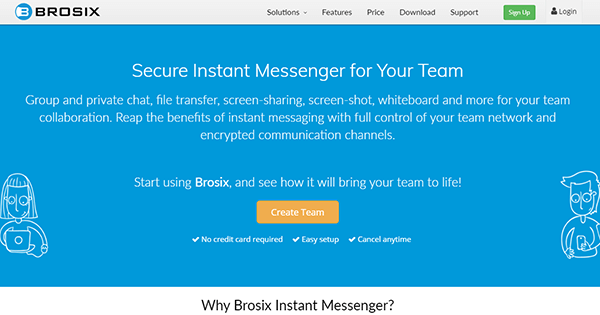 Like Workplace and Slack, Brosix is an enterprise communication and collaboration solution for teams of all types and sizes.
Brosix provides a consolidated approach to communication and collaboration – real-time channels, robust tools, and industry-leading security protocols to streamline teamwork and safeguard company data on one central platform.
"Enterprises today don't just need communication and collaboration capabilities. They require full transparency and control on a granular level."
Cost
Brosix pricing features three tiers. At $4 per user per month, the Business Plan gets you unlimited communication, access to a slew of collaboration tools, and administrative options like the ability to manage contacts and features.
The Enterprise Plan, at $6 per user per month, gives you unlimited communication and collaboration as well as the full range of enterprise tools.
Startup is Brosix's freemium option, providing text chat, co-browsing, and a virtual whiteboard and some limited enterprise features.
Getting Started
You don't need much to get started with Brosix. Simply register on the landing page with an email address. Then you'll just need to provide your name and phone number, as well as create a company or team name and a password.
With Brosix, onboarding happens in a couple of ways. You get an instructional email explaining the product, key features, and how to get the most out of the service. After that, the site provides both a tutorial section featuring loads of video content, as well as a comprehensive FAQ page.
User Experience and Interface
Brosix's classic interface lends itself to an intuitive user experience. Chats are organized on a user basis on the left side of the screen, while in-messaging access to voice and video chats and collaboration ensures teamwork is only a click away.
How does Brosix Compete?
With Brosix, group communication happens in chat rooms where you invite specific participants. Text chats, on the other hand, facilitate one-to-one communication. Both methods allow for the unlimited transfer of files unlimited, both in size and volume.
You also get crystal clear voice and video chat, while broadcast messages provide a nifty way to keep everyone on the platform informed, but without disrupting workflows or productivity.
Teamwork on Brosix is at its best when you combine real-time communication with the platform's robust collaboration tools. Pairing voice and video capabilities with the native whiteboard solution, for instance, leads to more engaging presentations, more precise revisions, and more dynamic brainstorming sessions.
The same goes for instant screenshot and Remote Desktop. Those tools help you better demonstrate the how-to and other visual processes, creating more compelling sales pitches, more effective training and onboarding, and even enhanced IT support.
What Sets Brosix Apart?
Like Slack and Workplace, Brosix is first and foremost a communication and collaboration hub. That said, there are some key differences like how the network is managed and the steps Brosix takes to safeguard your data, information, and teamwork.

Below, we'll examine three major differences separating Brosix from Workplace and Slack.

Perhaps the most crucial difference with Brosix is that communication and collaboration across the platform take place on a self-hosted private team network.

First and foremost, that means two things.
Only users authorized by network administrators can join the platform.
You retain the data, information, and communications that transpire across the platform.
One of the fundamental flaws with communication and collaboration platforms today is that they make it easier for data to end up in the wrong hands. With solutions like Workplace and Slack, IT administrators have no direct visibility over what's being shared on the platform.
Moreover, in the case of Slack, when people from outside the organization can join a channel, it makes it easier for data to end up outside the confines of your organization.
With Brosix, not only are chats, voice and video calls, file transfers, and collaboration tools only available to users within your network, but you keep the data which traverses the platform.
Brosix takes a multi-level approach to security. Whether you're worried about eavesdropping, man-in-the-middle attacks, viruses and malware, or misuse of your data by the host you've entrusted to ensure your communication, Brosix's approach to security mitigates these worries.
Peer-to-peer communication channels guarantee network activity takes place only between authorized users. Furthermore, by using P2P channels, you not only avoid host platforms misusing your data and information but also bypass potentially vulnerable third-party servers.
End-to-end encryption ensures that data and information remain in company hands by sealing communications and providing only the sender and recipient the keys to unlock it.
Anti-virus and malware integration further boost the safety, certainty, and integrity of data and information transferred on the platform.
3.Granular Control
Enterprises today don't just need communication and collaboration capabilities. They require full transparency and control on a granular level. Brosix's comprehensive enterprise toolkit gives it a leg up over Workplace and Slack.
Features control, contact management, and chat room controls allow for the delegation of features on a user basis, customization and management of contact lists, and governance of team chat spaces.
Brosix also lets you limit who has access to user data. For example, a social media specialist and corporate accountant likely don't warrant the same access to sensitive company data and information. By customizing data security levels on an individual basis, Brosix affords you the ability to effectively govern user data on the network.
What's more, Brosix's chat history archive keeps you current with regulations mandating electronic record-keeping, provides important network oversight, and sheds valuable insight into team communication trends and temperament.
Conclusions
When choosing a communication and collaboration solution, you need to be sure that it delivers just that – communication and collaboration. You also need to be sure it's working for you rather than using your data and information for some nefarious purposes.
Finding the right tool is difficult. If you're still on the fence, consider Brosix. While Workplace by Facebook and Slack are capable of boosting productivity, Brosix's enterprise nature and focus on security not only ensure teamwork, but better safeguard your team.