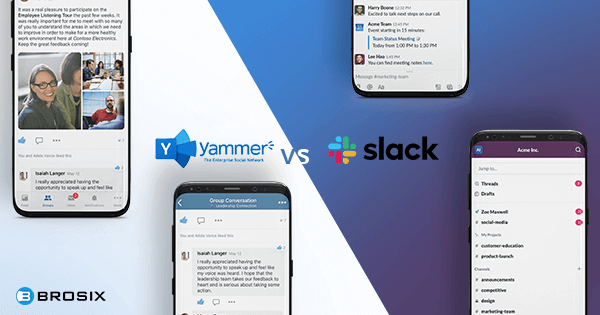 Slack vs Yammer: Which One is Better for Team Collaboration?
Collaboration tools are an important part of any organization that works remotely.
They make work easier by streamlining communication, enabling file sharing, and performing many other tasks that used to be impossible to perform if you're running a remote team. Some collaboration tools even have advanced project management options like time tracking and budget planning.
In this article, we will be focusing on two big names – Slack and Yammer. Both of these tools are known mostly as communication tools, or internal chats, which is what makes them close competitors.
Before we start comparing these products and their features, let's first get to know them a little better.
What is Slack?
Founded in 2013, when a software company called Tiny Speck decided to roll out its internal communication platform and make it public, Slack is one of the most popular names in the collaboration tool industry. The company made its way to the top with an innovative, user-friendly approach that has helped them reach an impressive 12 million daily active users.
It has since gone through several changes and now sports a simple, modern look, with signature chat design, or "channels".
What is Yammer?
Much like Slack, Yammer was also started as an internal communications tool by the genealogy website Geni.com in 2008. In a high-profile acquisition worth $1.2 billion, Microsoft purchased the tool and it has been included in the Office 365 Suite ever since.
It's used by a lot of Fortune 500 companies, including Virgin Trains and British Airways, and it comes with both desktop and mobile apps.
How we compared Slack and Yammer
To decide on which tool might be better for your business needs, we highlighted six criteria that we believe are the most important.
Pricing – which plans are available and how much you get for what you paid is crucial. Some pricing models might favor smaller companies with teams of limited size, but there's no doubt that cost is one of the most important factors when choosing new software.
Interface – knowing where everything is and how to get to it is crucial. Good user experience and an intuitive interface will make your life easier, especially if you're planning to use an app several hours every day.
Integrations – since both of these tools are used for chat purposes only, integrating them with other tools for project management or time tracking could be very useful. You can also have other integrations that we'll cover later, but it's safe to say that the more integrations a tool has, the more natural it will be for you to use it.
Chat experience – this maybe goes without saying, but the very experience of how you receive notifications, how you reply to messages, how you search chat history – all of this is important for good team communication. It's when we get to these details that a tool can lose ground to competition and even frustrate its users.
File sharing – sending and receiving files, archiving them, and finding them in chat history is an essential part of remote team collaboration. You'll want to make sure that your collaboration tool makes this process as easy as possible.
Security – finally, all of this is worth nothing if your company information gets compromised. Making sure your data is safe should be more important than any kind of user experience or integrations with third-party apps.
So, now that we know what we're looking at, let's get to comparing!
Slack vs Yammer: pricing
One great advantage that Slack has over Yammer: it can be completely free. Slack works on a "freemium" model, meaning you can use it for free, with limited access to features. However, to fully experience Slack, you'll likely need to upgrade to one of the paid plans.
The plans are as follows: Standard ($6.67 per user, per month), Plus ($12.50 per user, per month), and Enterprise Grid, for which you need to contact Slack's sales team to get the price. Keep in mind that these prices apply only when you pay annually – for monthly payments, prices are slightly higher.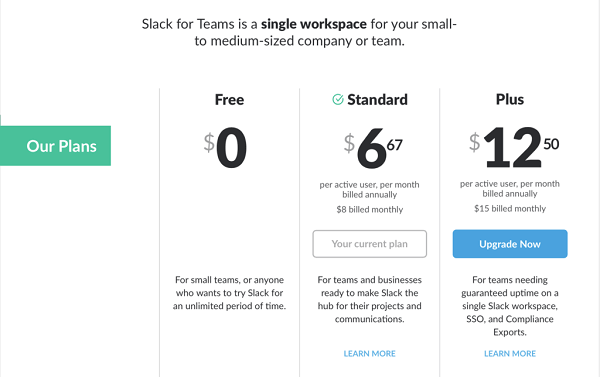 Source: Brightscout
Yammer neither has a free option nor is it available for purchase outside of the Office 365 Business Suite. This means that if you want Yammer, you need to invest in one of Office 365's plans. These plans are Office 365 E1 ($8 per user, per month), Office 365 E3 ($20 per user, per month), and Office 365 E5 ($35 per user, per month).
Slack vs Yammer: Interface
At first glance, these two tools have a similar interface: on the left, you can select channels (Slack) and groups (Yammer) and on the right, you have a large field that shows the content of the selected channel/group. Both are simple to use and easy to understand after you use them a few times.
However, it seems that Slack has a slight edge in this department, mostly because its design is cleaner and more streamlined.
As you can see, Yammer has a lot going on – in addition to groups and chats, you also have the chat description on the right that clutters the page a little too much.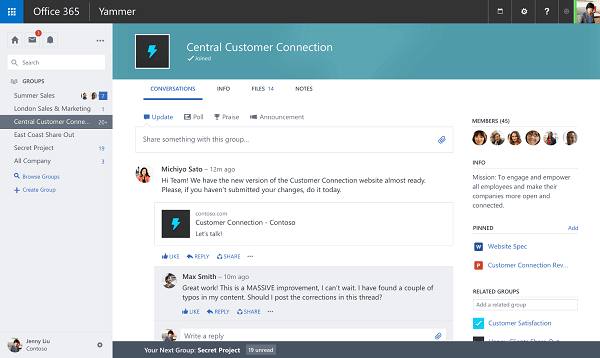 Source: Microsoft.com
Slack is much cleaner, as your messages take up most of the screen. However, if you'd like, you can also access chat information where you can see more information about the channel/person, pinned items, and shared files.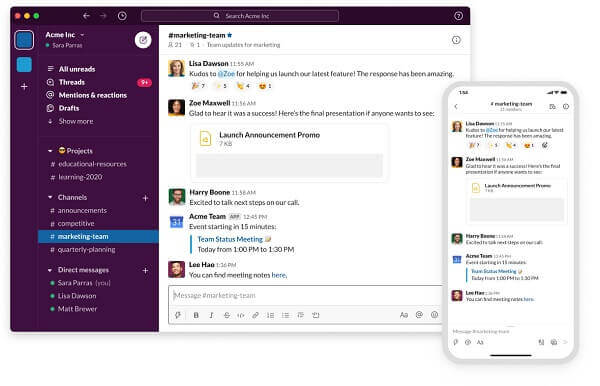 Source: Slack.com
Slack themes are also worth noting since they allow you to customize your experience and keep things fresh by changing up the design. If you're lucky, some of the themes will have your company's colors, so you can avoid the generic Slack colors and go for something closer to your brand!
Slack vs Yammer: Integrations
Upon researching what kinds of integrations Slack offers, this might be an unnecessary question to ask. A single visit to Slack's website is enough to see that the company has put a strong emphasis on enabling as many integrations as possible – as of today, you can integrate with more than 2.200 different apps if you're using Slack.
You can even integrate with project management apps like Asana, which means you use Asana to plan projects, set deadlines, and distribute tasks while managing all of this on Slack. Here's what this integration can look like: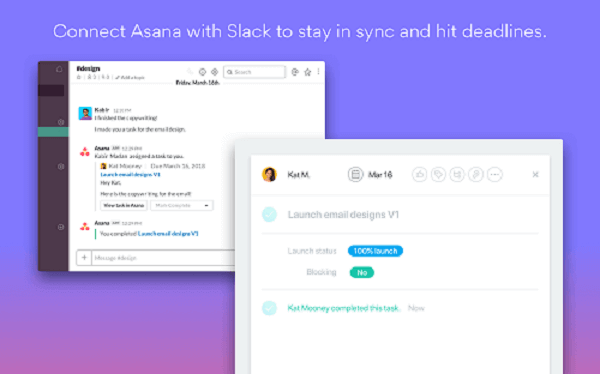 Source: Slack.com
But, don't be so fast to count Yammer out. While there might not be any Yammer integrations like the one above, this tool is still a part of one of the most comprehensive and most popular business suites in Office 365. When you take a look at what Office has to offer, you could be inclined to believe that a company doesn't need anything more than these apps.
For example, Yammer users can integrate with Skype to have video conferences, they can send Outlook meeting invites, and work on an Excel sheet together. And, for CRM purposes, they can integrate with Microsoft Dynamics CRM. Yammer's integrations might not be as numerous, but they're essential and immersed in the same ecosystem, which is always an advantage.
Slack vs Yammer: Chat experience
They might look similar, but Slack and Yammer are conceived slightly differently. Slack is known as a team chat app. If you take a look at any Slack review online, or on their website, you'll likely see that it's defined as a "collaboration platform", "messaging tool", etc. The whole interface is called a "workspace", which puts collaboration at the heart of the tool.
On the other hand, Yammer is more of an internal social network for your company. You can follow your coworkers, write a post, and create your little network.
This translates to the chatting experience: whereas Slack relies more on snappy, real-time conversations, Yammer seems slower and less urgent. On Slack, you can also mention people, respond directly to a certain message, and react to messages much like on Instagram or Facebook.
Another interesting Slack feature is Slack Bots that provide useful information, perform actions, and sometimes even offer funny comments or suggestions.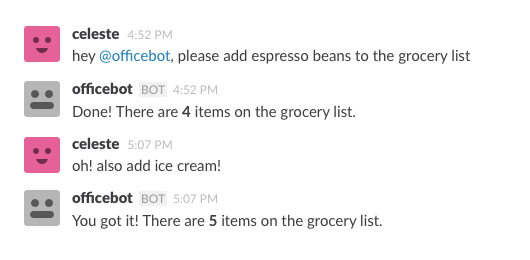 Source: Slack.com
Slack vs Yammer: File sharing
Any situation where you're required to work remotely requires you to have a reliable way of sharing files. While there are options like file transfer platforms that can help you do this, it's always convenient when your collaboration tool allows you to share files. That way, everything is quicker and the user doesn't have to leave the app.
When it comes to file sharing, Yammer has a slight advantage with a 5GB file upload limit for Enterprise networks compared to Slack's 1GB. However, Slack does offer file storage options with up to 10GB, depending on the plan you choose.
Another advantage that Slack has is the integration with Google Drive that allows you to store all your files there and easily import them to Slack. You can also assign edit permissions, get updates in Slack on all changes, and leverage other advantages of integrations.
Slack vs Yammer: Security
When it comes to data safety, Yammer offers enterprise-level service with strict Microsoft policies and infrastructure to support it. All data is encrypted, both in transit and at rest, with AES-256 bit key encryption. That's pretty much a standard in the U.S. when it comes to securing sensitive information, so you shouldn't have any issues with Yammer's encryption.
Slack also holds various certifications that are considered an industry standard in data safety. Their GDPR information is also available on the website, with standard GDPR rules. Slack allows for device and identity management, which means you can limit which devices and which people have the right to access your company data.
All things considered, we'd call this a draw in the security department, although both environments could be even safer and give the administrator even more control.
A team collaboration alternative: Brosix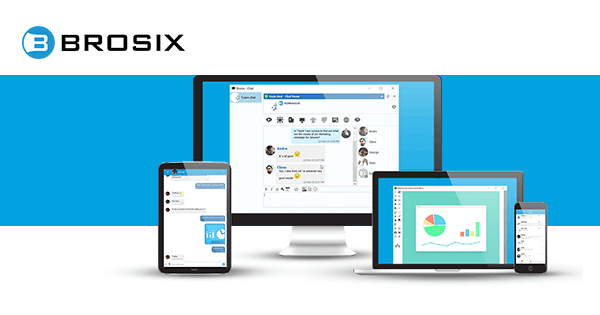 Although Slack and Yammer are popular choices and have a solid share of features, they could use some work in safety and chat experience fields. If we take into account the possibly hefty price tags (especially for Yammer), some companies might start considering alternatives to these two tools.
You may also
Brosix is one such tool – a real-time communication platform that promises a seamless chat experience for remote teams. Brosix's key features are robust IM features, easy file sharing, and industry-leading security levels that make sure all your data is safely stored.
Clean chat experience
Brosix offers a clean and simple interface that cuts down on distractions and helps you focus on what matters. Slack is sometimes criticized for doing just the opposite – confusing UI solutions, not being able to respond to isolated messages, etc. Yammer also has a slightly confusing interface, which we covered above.
Another advantage is the file size limit: while Yammer and Slack both limit the size of your file uploads, Brosix has no limit. It's these kinds of details that enable Brosix to offer you a streamlined collaboration experience with a focus on the important features.
Advanced features
Brosix also incorporates some next-level features like video and voice calls in its offer. Among these advanced features, you'll also find a virtual whiteboard, which can come in handy during training, presentations, or any other video calls where you need a tool to help you explain a complicated concept.

There is the remote desktop feature to rival Slack's screen sharing functionality, as well as an instant screenshot that can be useful for customer support teams.
Pricing
Finally, Brosix comes at a significantly lower price than both of these tools: you have the free Startup plan, the Business plan ($4 per user, per month), and Premium ($6 per user, per month).
Even the freemium option comes with text chat, virtual whiteboard, co-browsing, and some limited enterprise options.
Slack vs Yammer vs Brosix: summary
Both Slack and Yammer are useful tools that offer a wide set of features used by teams from all over the world. That being said, some obvious features could use some work, most of which belong to chat, user experience, and easy collaboration categories.
If you find a more affordable tool with strong team communication features interesting, feel free to give Brosix a try. It's easy to set up, and the Startup plan is completely free.
Sign up today – it'll only take a couple of minutes!
Request Demo