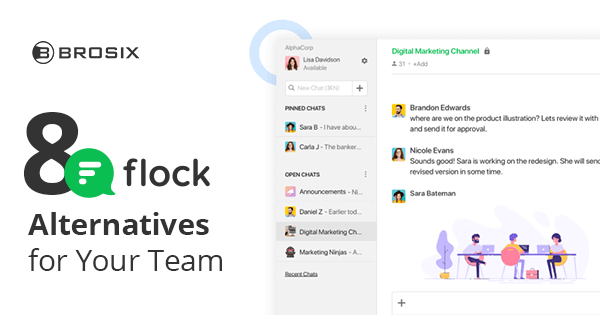 8 Flock Alternatives for Your Team
Enterprise communication and collaboration solutions – unlike free, consumer-grade chat apps – facilitate wider accountability, dynamic teamwork and secure, real-time communication.
There are many reasons why enterprise messaging is hot! One of the hottest solutions is Flock. Born in 2014 in India, Flock is hugely popular there.
Now Flock is challenging Slack, Microsoft, and other major players. The company has even established a North American headquarters to more effectively do so.
8 Flock Alternatives for Your Team
Click To Tweet
That ambition has come at a cost. At $6 per user per month, Flock's cheapest paid offering is now more expensive than much of the competition. And there are other gripes, too.
Its interface is cluttered and overcrowded
There are limited customization options
If you're a Flock user or you're considering the platform, you might be wondering: Are there any suitable Flock alternatives?
The Top Flock Alternatives
As workplaces and the nature of work become increasingly dynamic, team messaging solutions are critical to effective communication and productivity.
Luckily, this is the golden age of team messaging. As such, there's no shortage of alternatives to Flock. Here are 8 for your team to try today!
Slack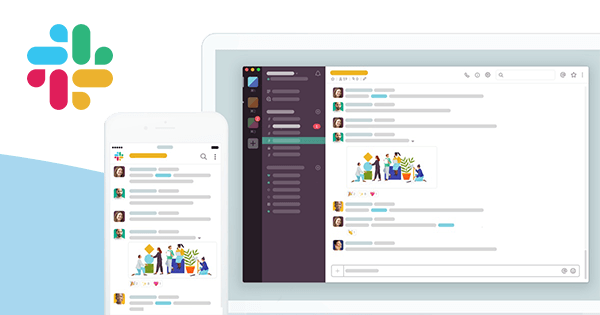 Of all the alternatives to Flock, Slack is probably the first that comes to mind. The team messaging platform boasts over 10 million users and more integrations than anyone.
Slack organizes conversations via direct messages and private and public channels. Slack lets you share, pin, edit, react to and delete messages. Threads and mentions ensure more relevant conversations for those involved.
There's also screen-sharing, voice and video, file sharing, and integrations with over 1,500 apps to help you execute endless workflows.
Notable features:
1,500+ integrations
Keyword notifications inform you anytime a predetermined keyword is used
Customizable sidebar
Reminders
RSS feed capabilities
Pricing: Standard plan will run you $6.67 per user/month; Plus sets you back $12.50 per user/month. A freemium version limits you to a 10K message history and 10 integrations.
In addition to its steep price tag, there are other drawbacks of Slack. It's increasingly complicated, disruptive, and may not be completely private.
Available on: iOS, Android, macOS, Windows, Linux, Web
Brosix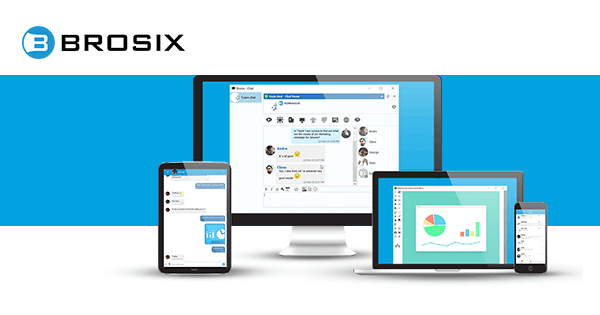 If you're looking for a capable, secure and customizable Flock alternative, try Brosix!
Brosix's rich feature stack ensures teamwork and communication while robust security protocols guarantee network and data privacy.
One-on-one text chats, chat rooms, and seamless voice and video facilitate smooth team communication. Our user-friendly UI lets you transfer unlimited files, share your screen, capture instant screenshots, and create whiteboard conferences with just a click.
Brosix network administration and enterprise control allow you to create a fully customizable, individualized private team network. What's more, Brosix fully encrypts communications over peer-to-peer channels while anti-virus and malware integration further ensure a secure data and workflow. It's a highly secure alternative to Flock.
Notable features:
Management of user contact lists, features, and shared chat spaces
The ability to set multiple administrators and specific data security levels
Unlimited size file transfers
Broadcast messages to better target team members and preserve workflows
A native virtual whiteboard
Pricing: $4 per user/month for Business; $6 per user/month Premium. Startup lets you access communication and modest enterprise control for free.
Available on: iOS, Android, Windows, macOS, Linux, and Web
Chanty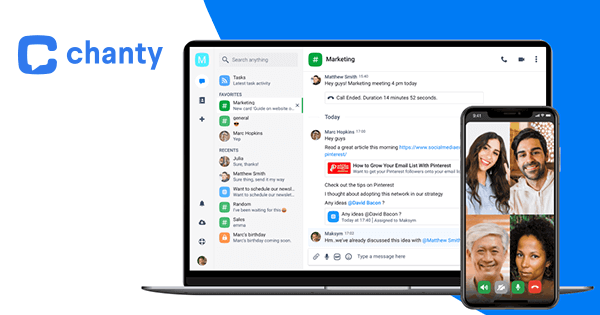 Chanty is one of the newer alternatives to Flock on the market. Released in 2018, the affordable team messaging tool has made a name for itself by offering AI-powered features geared toward small to medium-sized enterprises.
Chanty allows for communication on a one-to-one basis, as well as through both public and private channels. You also get voice and video calls, the ability to turn messages into tasks, file sharing, screen-sharing, and an unlimited searchable message history.
Notable features:
Teambook to organize tasks, messages, links, and files
AI-powered search and suggestions
Task tracking on the Kanban board
Workflow automation through integrations with Trello, Mailchimp, and Google Drive
Pricing: Paid plans from $3 per user/month. Free plans are limited to 10 users on a team.
Available on: iOS, Android, Windows, macOS, and Web
Troop Messenger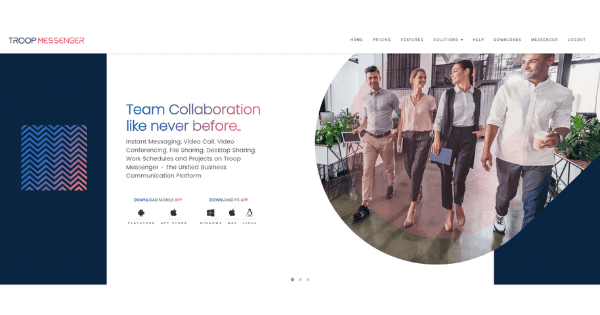 Troop is the cheapest Flock alternative on this list. But that doesn't mean it lacks as a team messaging option.
With Troop, you get unlimited messaging, voice and video calls, screen sharing, up to 1TB storage, file sharing, and the option to self-host. Users can create profiles, customize wallpapers, and take advantage of location tracking.
Messaging happens on a one-to-one basis or in groups. Groups on Troop allow for unlimited participants while there's no limit to the number of groups a user can create.
Notable features:
Burnout chats that aren't stored anywhere and self-destruct after a predetermined time
Groups with unlimited messaging history
The option to invite users from outside the organization to the platform
Pricing: Beyond the 30-day free trial, Troop will only run your business a buck per user/month. Enterprise plans start at $5 per user/month.
Available on: iOS, Android, Windows, macOS, Linux
Microsoft Teams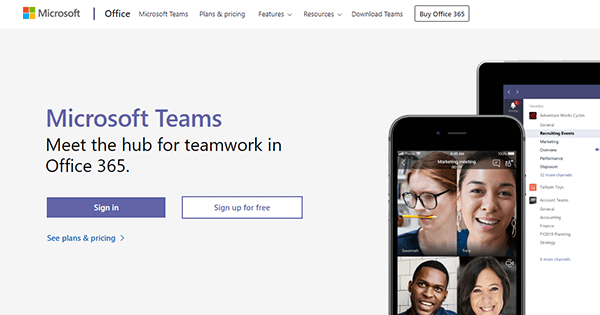 Subscribers of Microsoft's Business Essentials or Business Premium plans will be familiar with Microsoft Teams. Launched in 2016, Teams comes standard with an Office 365 plan.
Teams is most famous for its integration with Office 365. That lets you access, edit and share any Office or One Drive document without ever leaving the app.
There's a freemium plan which offers you the usual suspects – chat and audio and video calls – as well as integrations, limited file storage, and the ability to communicate and collaborate with anyone inside or outside your organization.
Notable features:
Deep Integration with Office 365
In-messaging, word-like formatting so you change typefaces, create bulleted lists, etc
AI-powered onboarding and search
The ability to record voice calls
Unsurprisingly, Teams is Microsoft-centric. If you're an Apple or Linux user, there could be compatibility issues. If it isn't the app for you, check out these capable Teams alternatives!
Pricing: Essentials starts at $5 per user/month; Premium runs $12.50 per user/month. A limited freemium version aims to push you toward a Microsoft subscription.
Available on: Windows, macOS, iOS, Android, and Web
Workplace by Facebook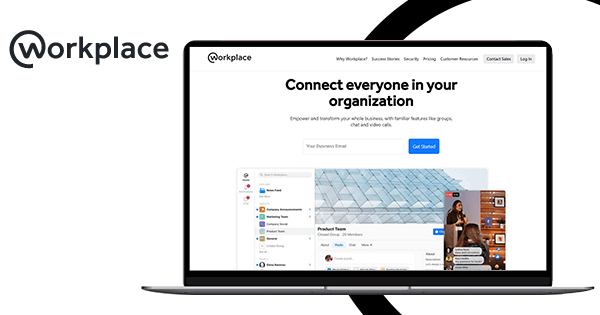 Workplace is Facebook's Flock alternative and foray into the team messaging wars. Unveiled in 2016, Workplace delivers team chat in familiar Facebook fashion.
While a fully-separate entity from Facebook, you still get a news feed, personal pages, posts, comments, and likes. You also get voice and video calls, monitoring tools for IT teams, admin controls, and some integrations.
Messaging in Workplace happens in a host of ways. There's direct messaging, group messaging which is private by default but with the option to be public, and Groups, for unified chat and collaboration.
Notable features:
The ability to live stream events
The option to invite partners, customers, or teams from outside the organization
Communication and collaboration with the familiarity of Facebook.
For a deeper dive into Workplace, have a look at our review.
Pricing: $4 per user/month for Workplace Advanced; $8 per user/month for Enterprise.
Available on: Windows, macOS, iOS, Android, and Web
Ryver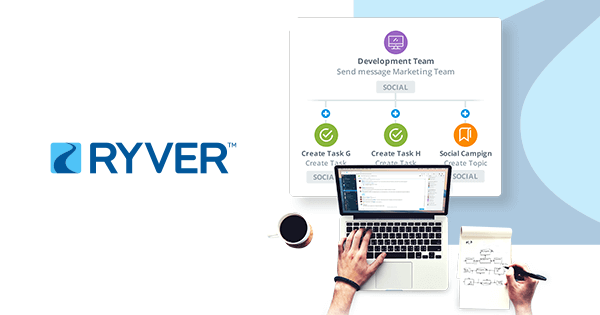 With Ryver you get team messaging and project management.
Ryver allows for direct communication through direct messages, private groups, and open forums. Messages can be turned into tasks and assigned to anyone on the platform.
You can then manage everything from scheduling, tracking, organizing, and discussing on the Kanban board. You also get voice and video calls, screen-sharing, and unlimited integrations through Zapier.
Notable features:
Chat, task management, and workflow automation on one platform
social media, news articles, and RSS feed content streaming
Pricing: Ryver only offers a 14-day free trial. Plans start at $49 per month for up to twelve users, $99 per month for unlimited users, and $399 for enterprises.
If your teams rely heavily on integrations, you'll also need to shell out for a Zapier plan. At $250 for 50K tasks – Ryver can quickly turn into a costly Flock alternative.
Available on: Windows, macOS, iOS, Android, and Web
Discord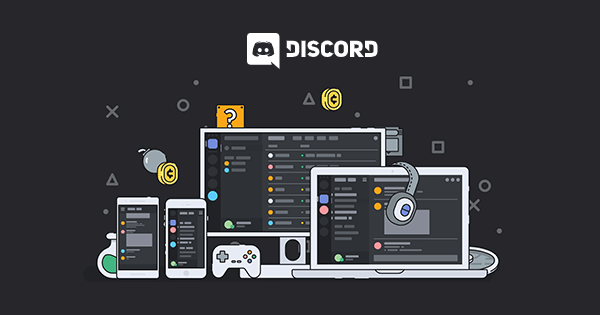 Discord is a household name in the gaming community. The platform was conceived to provide gamers a more interactive experience.
What's that got to do with Flock, you ask? Well, Discord's rich voice features – coupled with chat capabilities and screen-sharing – can provide an interactive twist to your team communication and collaboration.
We recently explored Discord in-depth. Check it out!
The voice-based Flock alternative organizes conversations into 'Servers,' separated by text and voice. The latter continuously takes place in the background. Clicking on a channel immediately enables voice communication with other users, like a walkie-talkie.
Notable features:
Immediate voice communication through the push-to-talk feature
All your workspaces on one interface
Integration with YouTube, Twitter, Reddit, or a host of others through Zapier
Pricing: The free plan offers core functionality. $9.99/month gets you custom emojis, larger file uploads, and GIF avatars.
Available on: Windows, macOS, iOS, Android, Linux, and Web
Which Flock Alternative Is Right for Your Team?
As you can see, these 8 Flock alternatives are each capable of upping your team communication and collaboration capabilities. Deciding on the right one just depends on your team and organizational needs. You'll need to consider, for example:
How much you're willing to pay each month
What features would most improve efficiency, functionality, and performance
The platform's attention to security and privacy
The ability to customize the platform to your team and organization
8 Flock Alternatives for Your Team
Click To Tweet
If you're having trouble making up your mind, consider Brosix! It's an affordable, feature-rich, highly secure and customizable Flock alternative. Try it today!