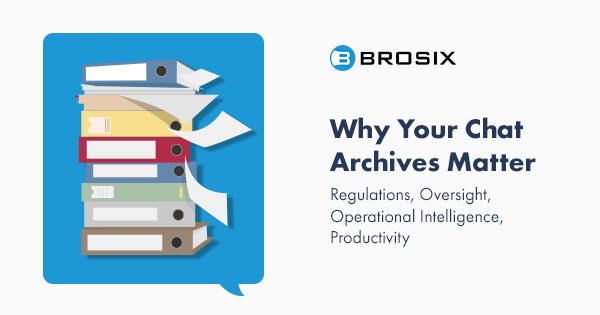 Why Your Chat Archives Matter
It can be hard to keep pace with the constantly evolving business communication landscape. More and more, workplace phone calls and emails are being replaced with popular business instant messaging platforms as a way to better optimize internal communication and collaboration. And if your workplace is one of the many which have made the switch to instant messaging, then it begs a few questions.
Should we be keeping a record of our instant messages?
Is a chat history that important?
Can a chat history really improve our internal communication? Or our business?
The short answer is – yes! Keep a record of everything. A comprehensive chat history isn't just required by law in many instances, but it can also drastically strengthen oversight, operational intelligence, and productivity.
It's Required By Law
First off, if you're not archiving your electronic communications, you could be in violation of a number of federal laws. For government officials, the Freedom of Information Act (FOIA) and various sunshine laws in the United States mandate record keeping of electronic communications – even those from personal devices – in order for easier access upon request.
In addition, corporate and financial archive regulations such as the Sarbanes-Oxley Act state that public companies must archive all business related communications for a period of no less than five years.
And these regulations aren't just limited to the corporate world and government agencies. If you're in healthcare, the Health Insurance Portability and Accountability Act (HIPAA) dictates that health care providers and organizations must maintain a record of all messages to guarantee that they did not include protected health information.
These are just a few examples of the myriad regulations in place governing your enterprise communications. Many states also have their own individual regulations depending on the industry in which your business operates. And if you're in Europe, you're not necessarily out of the woods. The Markets in Financial Instruments Directive stipulates that any firm carrying out investment services and activities must retain all electronic communications for a minimum of 5-7 years.
Archives Provide Oversight
With so many consumer-grade chat apps out there, chances are you and your employees have a favorite. But using a personal chat app for workplace communications is fraught with risks, including security, functionality, and time-wasting. And this danger extends to include a lack of oversight. If you or your employees are using personal apps for workplace chats or, worse, you're not archiving your chats – you're essentially surrendering control over your internal communication.
Archiving your chats with an enterprise instant messenger, however, gives you greater authority over what's being communicated in your work environment. While you may never face a lawsuit or regulatory inquiry, a chat history archive ensures that, if you do, you'll have a comprehensive record of all your internal communication – text and group chats, voice calls, and file transfers.
And potential legal ramifications aside, isn't it important to know not only what your employees are communicating, but how? A chat history archive allows you to not only better focus communication, but halt bad habits and impropriety.
Data is Power
These days, data is power. And your business probably produces a lot of data. So just imagine what information could be gathered from an overview of your workplace chats. What could you predict? What could you do better? The potential is limitless.
You could be preparing to roll out a software update or a new product. Or maybe you're getting ready to announce a change in company policy or direction. Naturally, you'd want to know how these decisions are being met – whether they're creating a buzz or being met with apathy.
What are you teams discussing and could this information be utilized to develop a more appropriate strategy? What are the prevailing trends and tendencies affecting how your team keeps in touch? Maybe certain aspects of your internal communication be better streamlined. A comprehensive chat history archive could shed valuable insight into the state of your organization's communication, while allowing you to improve company operations.
Your Chat History Can Enhance Productivity
Believe it or not, your archived chats can even aid you in improving productivity, efficiency, and collaboration in the workplace.
Have you ever tried to recall a detail from a prior conversation regarding a project or report? That can be a challenge in today's fast-paced business climate. By allowing you to review your own conversations with a simple keyword search, chat histories save you time and frustration, while freeing up your IT department for more important tasks.
But that's not all. Let's say, for instance, you want to know how your staff prefer to communicate. Or maybe you feel a feature is being under-utilized. Using a chat history archive, you can find out the features – text or group chats, voice and video calls, file transfers, and so on – that are used the most. What's more, an archive not only sheds light on which features are being used, but who's using them and when – allowing you to pinpoint collaboration, as well as better highlight and take advantage of productive times.
In Conclusion
By now you're aware that the right business instant messenger can effectively streamline your team communication, advancing productivity, efficiency, and collaboration in the process.
But your chat history is a crucial piece of that puzzle – ensuring that your enterprise remains within the realm of federal archiving regulations, while importantly bolstering your oversight, operational intelligence, and workplace productivity